Arts in April: Call to Artists & Volunteers
February 24, 2021
Mark your calendars because there are plenty of upcoming art activities happening in April! Right now, we are on a mission to find great art to display! Keep reading to find out how you can participate in this local arts celebration. This article is directed to artists and volunteers.
If you are an artist, please review the opportunities below. There is prize money for some of the submissions and the exhibits will allow your artwork to be purchased.
If you are interested in volunteering during the day or evening on April 17th, please email Tanja Gerhartz at tgerhartz@cwgdn.com. Volunteer opportunities include Exhibit Docents, Gallery and Business Guides, Art Ambassadors, Photographers, and Registration Assistants.
If you are an artist and have questions, please reach out to Phil Self, Winter Garden Art Association Executive Director at execdir@wgart.org
Arts in April: The World Outside
A community celebration will be held on Saturday, April 17th with exhibits and activities all day. There will also be a fundraising event in the evening.
During the day, there will be a Plein Air Event, Community Canvas, Kids Art and Sidewalk Chalk Art along with over 20 indoor/outdoor exhibits and venues throughout downtown. In the evening, the night will take over and downtown will be filled with lights, color and art for a ticketed fundraiser to support the local arts.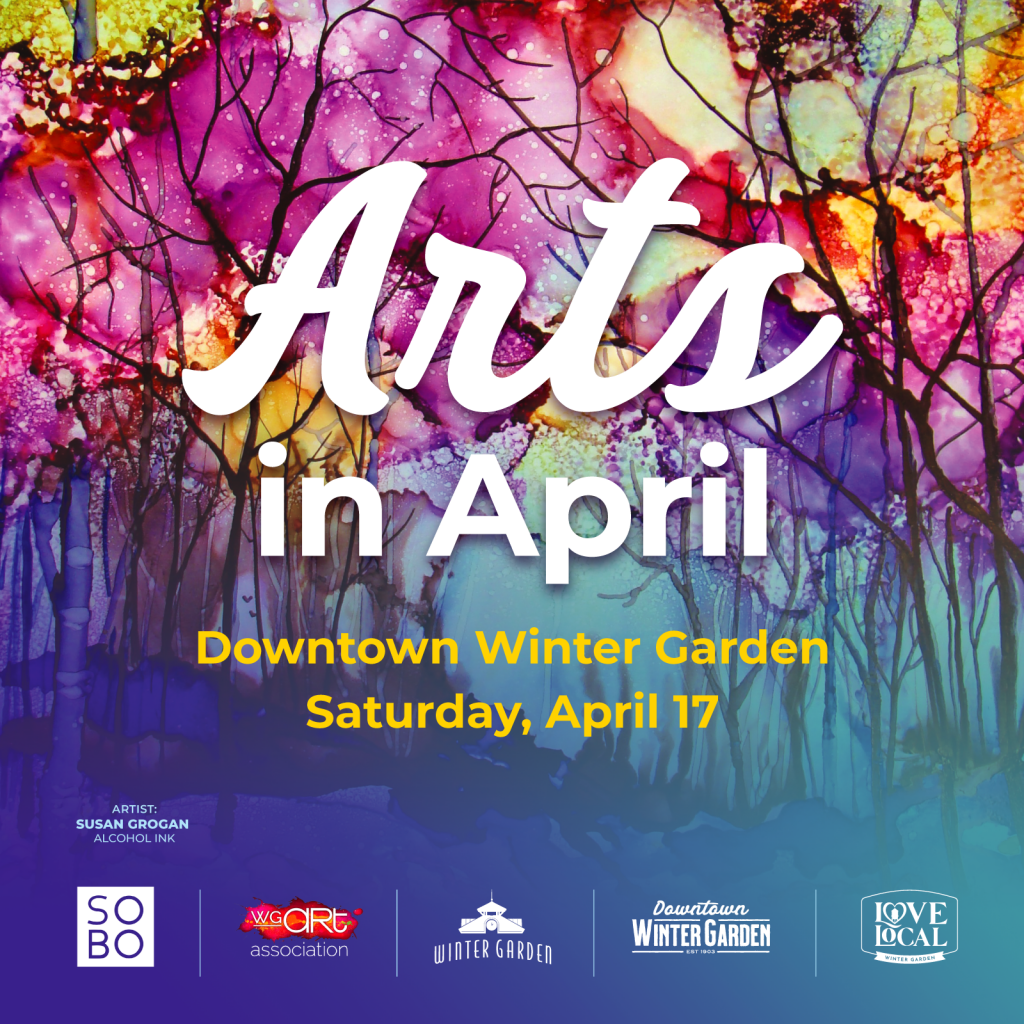 SOBO Art Gallery Exhibition: The World Outside
Art submissions will be open from March 1st through March 8th. To submit your work visit the Call to Artist page here.
The Opening Reception will be April 1st, 5:30-8:00 pm. There will be an all-day community celebration on April 17th.
The World Outside Outdoor Art and Sculpture on Display
Calling all Sculpture and Outdoor Artists: We are looking for creative Outdoor Art, Sculptures, Installations, Interactive Art, etc. for multiple opportunities around the City of Winter Garden including at the SOBO Art Gallery. Opportunities include Special Events, Periodic Exhibitions, City-Wide Seasonal themes and for general public display and enjoyment in Winter Garden.
In order to be featured in April, submissions must be in by March 17th. To submit your work visit the Call to Artist page here.
Performance Art
Calling all Performing and Live Artists Including Visual Display Arts, Live Music, Immersive and Experiential Artists to participate in Celebrating the World Outside on April 17th. To submit your work visit the Call to Artist page here.
Chalkin' it Up Sidewalk Art Contest
This is one of the events on April 17th, starting early Saturday morning in front of Winter Garden City Hall. Prizes will be awarded and Judging will take place at 4:00 pm. Chalk will not be provided and space is limited.
Each participant will have a 6×6 square and the theme will be "BRIGHT COLORFUL FLOWERS". If you would like to include a "Monarch Butterfly" that would be great! Applications are due by April 5, 2021.
Email applications by April 5th to brendaknowles1257@gmail.com
Springtime in Garden Art Exhibit – City Hall Gallery
The City of Winter Garden will accept entries for its next exhibit – Springtime in Winter Garden. The art exhibit will be displayed from April 1 – May 28. All mediums of art will be accepted; artists are asked to submit original work, along with an application, no later than March 1.
The application is available at City Hall or by email request. The deadline to enter art and an application is March 1. For more information, call 407.656.4111 ext. 2266 or email avaughn@cwgdn.com