West Orange Trail
The award-winning West Orange Trail threads down the middle of two-lane Plant Street in the center of Downtown, making the Downtown area a perfect location for hopping onto the trail or for providing a resting stop for trail users to browse the shops and restaurants. This trail goes both northeast and west and connects to many other communities and trails for a total of 34 miles.
Built on old railroad alignments, the world-class 14-foot wide paved trail goes through urban and suburban sections of Orange County including passing through the downtowns of neighboring Oakland and Apopka. Hop on a bike (rentals available at trailheads), lace up the skates, or go for a jog or stroll to explore the trail's scenic surroundings and uncover the region's past and present along the way. The West Orange Trail will soon be part of the 250-mile Coast to Coast (C2C) Connector Trail providing a paved trail route from the Florida's Atlantic coast to Florida's Gulf coast.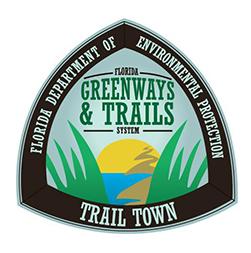 Winter Garden is proud to be a designated "Trail Town" by the State of Florida due to its bike-friendly environment, its scenic quality, and its myriad of dining, recreation, entertaining, and lodging options
surrounding the trail.
Bike rentals are available on the West Orange Trail at:
Winter Garden Station
Wheel Works | 407-877-7433
455 East Plant Street
Open Tuesday through Sunday 10:00am-5:00pm
Make a Reservation
Killarney Station in Oakland
West Orange Trail Bikes and Blades | 407-877-0600
17914 State Road 438
Open Monday through Friday 9:00am-5:00pm,
Saturday, Sunday and Holidays 7:30am-5:00pm