History of a Charming Little City with a Juicy Past
Settlers began arriving in the Winter Garden area by the 1850s, attracted by the fertile muck land that bordered Lake Apopka. They engaged in citrus and vegetable farming, living in small settlements situated along the lake's south shore. By the end of the nineteenth century, Winter Garden's business district had grown up alongside the two railroad lines that ran through the city.
The commercial buildings were rebuilt with brick after two fires destroyed the wooden buildings and packinghouses that stood along Plant and Main Streets.
Winter Garden was established in 1903 and officially incorporated as a City in 1908. The first Mayor of Winter Garden was A.B. Newton. The population of Winter Garden had grown to over 1,000 people by 1920, and the city had quickly become the center of commerce and agriculture in West Orange County. Lake Apopka's emergence as "the large-mouth bass capital" attracted tourists, and the Edgewater Hotel opened in 1927 to accommodate these visitors. Early residents either owned or worked in the groves. As the citrus industry grew in importance and acreage, the commercial district continued to expand.
Winter Garden's rapid development slowed considerably in the late 1960s. Lake Apopka had become severely polluted, and the construction of major highways in the area drew businesses away from downtown.
Despite the challenges, Winter Garden's architectural heritage remained intact. The establishment of the West Orange Trail attracted thousands of visitors eager to patronize the new shops and restaurants that moved into the old buildings. In 1996, downtown Winter Garden was listed on the National Register of Historic Places after concerned citizens and community leaders rallied to rescue the commercial district.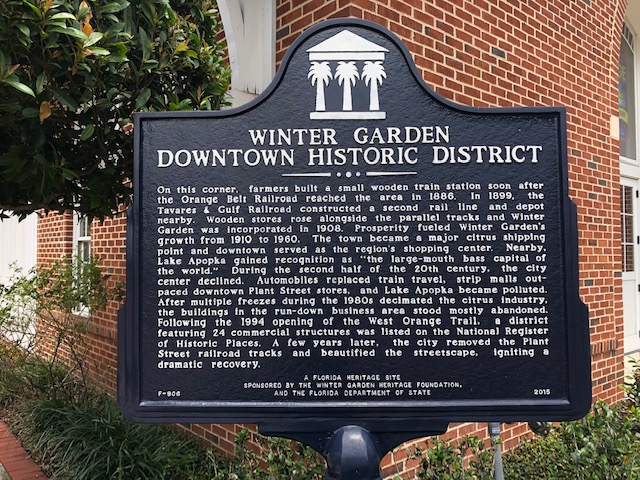 The architectural overlay ordinance adopted in 2010 provides the standards and guidelines for major improvements to existing structures, renovations, redevelopment or new construction. The area is approximately 116 acres and includes 270 residential and commercial properties.
Today, Winter Garden's Historic District serves as a successful example of historic preservation. Infill development, redevelopment, repurposed buildings, preservation, housing, and businesses all converge to create a thriving downtown that draws people from around the world.
To learn more, please visit the Historic District OR the National Trust for Historic Places.
Thank you to the Winter Garden Heritage Foundation for contributing to this page.