Everything You Need to Know About Shop, Dine & Stroll
March 10, 2021
Shop, Dine & Stroll is an all-day-long outdoor shopping and dining experience in celebration of National Mom and Pop Business Owners Day! Come support the independently owned businesses that make Downtown Winter Garden so unique.
When: Saturday, March 27, 2021 @ 8:00 am – 11:00 pm
Where: Winter Garden Downtown Historic District, 300 W. Plant St.
Until Shop, Dine & Stroll
March's ideal weather makes it the perfect time to stroll the charming streets, shops, and outdoor dining areas. Peruse the outdoor sales racks, fresh spring apparel, accessories and home goods to get ready for the new season. The independently owned shops will also feature in-store and online specials/promotions, as well as curbside delivery*. You can find a list of Downtown Winter Garden Shops here!
Take a shopping break to enjoy freshly prepared menu items and beverages at Downtown's one-of-a-kind eateries, and grab a seat at one of the many outdoor umbrella tables that line the historic streets. You can find a list of Downtown Winter Garden Restaurants here!
The Winter Garden Farmers Market will also be happening at the Downtown Pavilion, 104. S. Lakeview Ave from 8:00 am – 1:00 pm.
Weather: The Downtown Winter Garden Sidewalk Sale & Dining/Outdoor Experience will be held rain or shine.
Parking: Convenient parking is always free throughout Downtown Winter Garden, including in its three-level parking garage, 160 S. Boyd Street.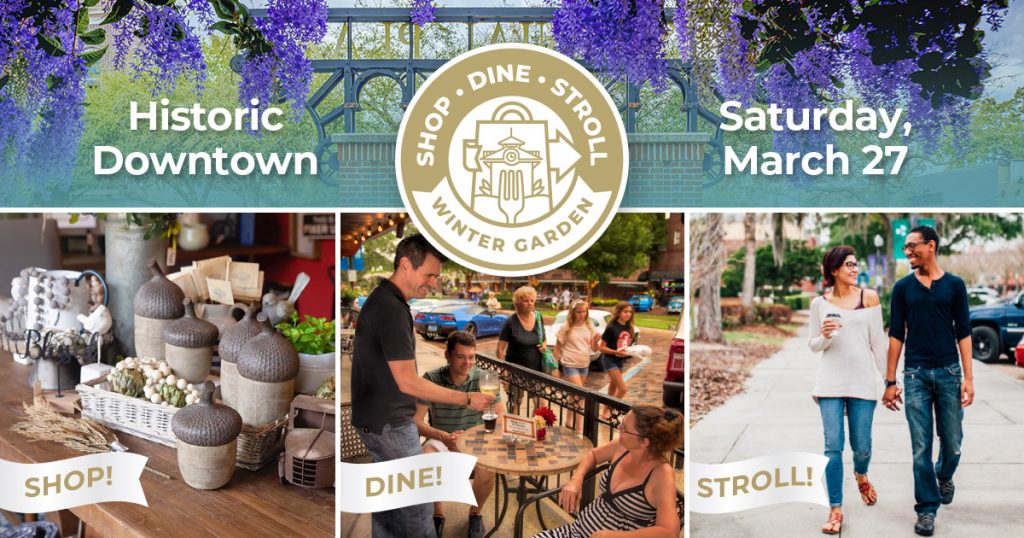 Share this Page with your family and friends and encourage them to join in on the fun. You won't want to miss this fun opportunity to support our Downtown Winter Garden businesses! See you at Shop, Dine & Stroll!
*The Downtown Winter Garden Curbside Program provides complimentary contact-free delivery of purchases from both shops and restaurants to the comfort and safety of your vehicle parked throughout downtown. Sponsored by the City of Winter Garden call Downtown Ambassadors at 407-576-1421, 1422, and 1423 to alert of your arrival and parking zone.