Small Business Saturday
November 8, 2021
Small Business Saturday is an annual national holiday observed on the Saturday after Thanksgiving that focuses on the importance of supporting the small businesses in our respective communities. This year, the holiday is on November 27, and what better way to celebrate than to head to historic downtown Winter Garden for its annual sidewalk sale.
The mom- and pop-owned shops in historic downtown make this a must stop on Small Business Saturday. Kick off your holiday shopping with outdoor and indoor sales, promotions, and special offers. The daylong sidewalk sale is a great opportunity to shop for gifts, special occasion outfits, seasonal décor, and party hosting supplies while having holiday fun.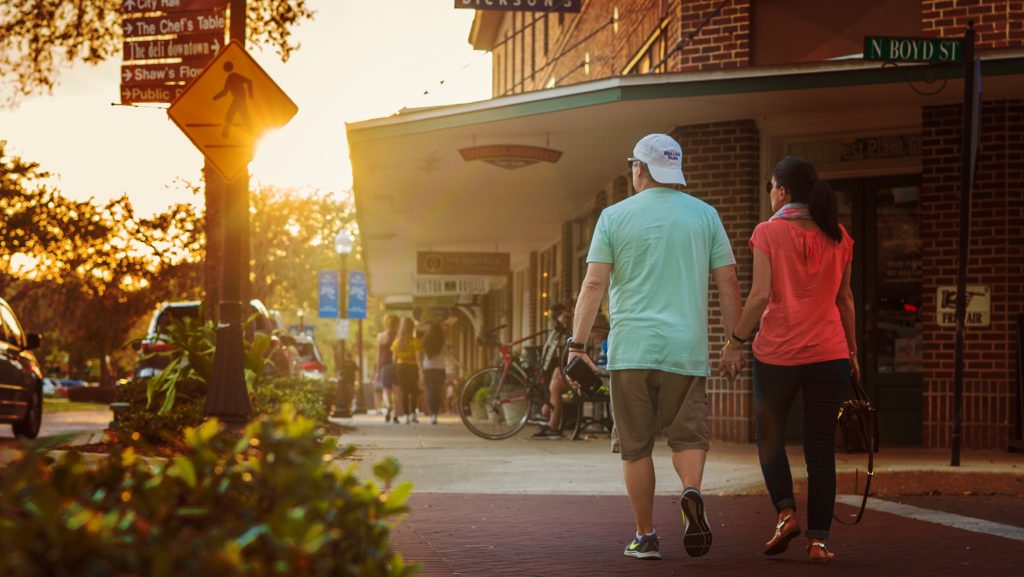 Fun Things To Do Downtown at the Small Business Saturday Sidewalk Sale
Combine gift shopping with making holiday memories as downtown turns into a winter wonderland this time of year with festive decorations and light displays adding to its Norman Rockwell-like small town charm.
Stroll the brick-lined streets full of outdoor display racks and tables for special sales and unique finds on merchandise – while getting some exercise after the big holiday meal.
Grab the family to take that annual photo for the holiday card, as there are a number of locations downtown that provide the perfect backdrop.
Enjoy a Holiday Moonlight Movie on the evening of Small Business Saturday. The City is showing The Polar Express (G, 100 minutes) to the community so pack your chairs and blankets, wear your holiday pajamas, and get cozy under the stars. Pre-show activities start at 5:30 pm which include a mini train ride for tots and face painting. Showtime is at 7:10 pm. Light refreshments will be available onsite to purchase or bring take out from a local eatery to make a picnic. Location is the Downtown Pavilion, 104 S. Lakeview Avenue.
Stop for food and drinks at one of the many downtown eateries and enjoy all the outdoor seating as well as the fall weather. Almost all of the restaurants are locally-owned providing cuisine and atmosphere not found anywhere else.
Find all the stocking stuffers you need by purchasing gift cards at the local shops.
Create a unique assortment of Florida gifts for loved ones by visiting each shop and creating a Winter Garden gift basket.
Visit the Winter Garden Farmers Market to find more unique gifts and show your support to local businesses. Open from 8:00 am – 1:00 pm, the market boasts 100+ local vendors, family fun games on the lawn, and a Kidz Zone to make handmade crafts.
Take the shopping challenge by using the "Downtown Winter Garden Shop Local Checklist" provided below to see how many shops you can visit on November 27. You just may find a new favorite!
The Small Business Saturday Sidewalk Sale in Downtown Winter Garden will be held rain or shine. Special offers and operating hours vary by merchant.
Retail Shops In Downtown Winter Garden
HEALTH & WELLNESS
The unique shops of downtown feature apparel, jewelry, home décor and greenery, cycling/running /sporting equipment and accessories, gourmet foods, health and beauty products, pet supplies, furniture, and much more. Visit their websites below to start planning your shopping trip. Many also offer online shopping!
HOME, GIFT, & SPECIALTY
Use the checklist below to make sure you visit as many of our local businesses as possible and be sure to share your finds with us online. Tag us @officialdowntownwintergarden or use the hashtag #downtownwg on Instagram!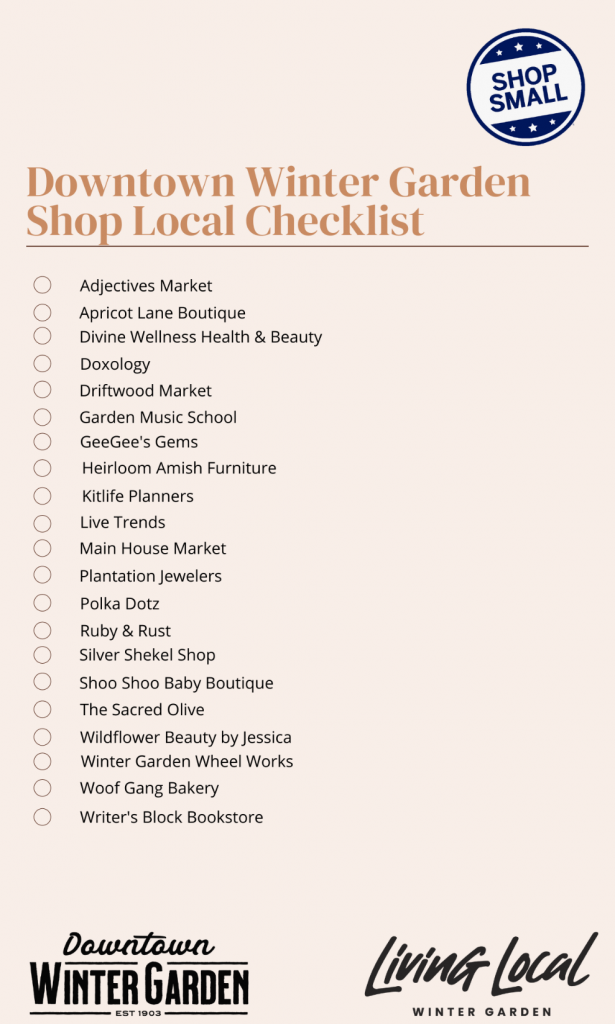 10 Reasons Why To Shop Local On Small Business Saturday – and All Year Long
Local business owners have had a challenging past 18 months and Small Business Saturday is a great opportunity to show support to the more than 2,000 businesses in Winter Garden. Below are some reasons why when you "Shop Small, you Help Big:"
1. For every $100 you spend at locally owned businesses, $68 will stay in the community, versus only $43 when shopping at a national chain, according to Civic Economics – Andersonville Study of Retail Economics.
2. Winter Garden's one-of-a-kind businesses are an integral part of the distinctive character of our community. This uniqueness is what attracts residents and visitors that benefits everyone.
3. Small local businesses are the largest employer nationally, so you can help maintain local jobs.
4. You reduce environmental impact because local businesses can often make purchases locally, which requires less transportation for goods, reducing costs and pollution.
5. You are supporting local charities. Non-profit organizations receive an average 250% more support from smaller business owners than they do from large businesses.
6. You put your taxes to good use. Local businesses require comparatively little infrastructure investment and make efficient use of public services as compared to nationally owned stores entering the community.
7. You get better options. Different types of shops means a broader range of products for the customer to choose from, providing choices that are more relevant to local tastes and needs.
8. You get top-notch customer service. Employees of local businesses have a solid understanding of the products they are selling and take time to get to know and serve their customers.
9. You encourage entrepreneurship. Studies show that entrepreneurs are more likely to settle in communities that take pride and preserve their one-of-a-kind businesses and unique character.
10. You invest in your local community. Local business owners live here; work here; invest their time, energy, and dollars into the community and care about its future.