Winter Garden Farmers Market 13th Birthday
June 2, 2021
The award-winning Winter Garden Farmers Market is turning 13 and you are invited to help us celebrate! Join us on Saturday, June 5th, for food demonstrations, live music, life-sized kids' games, summer treats, and more!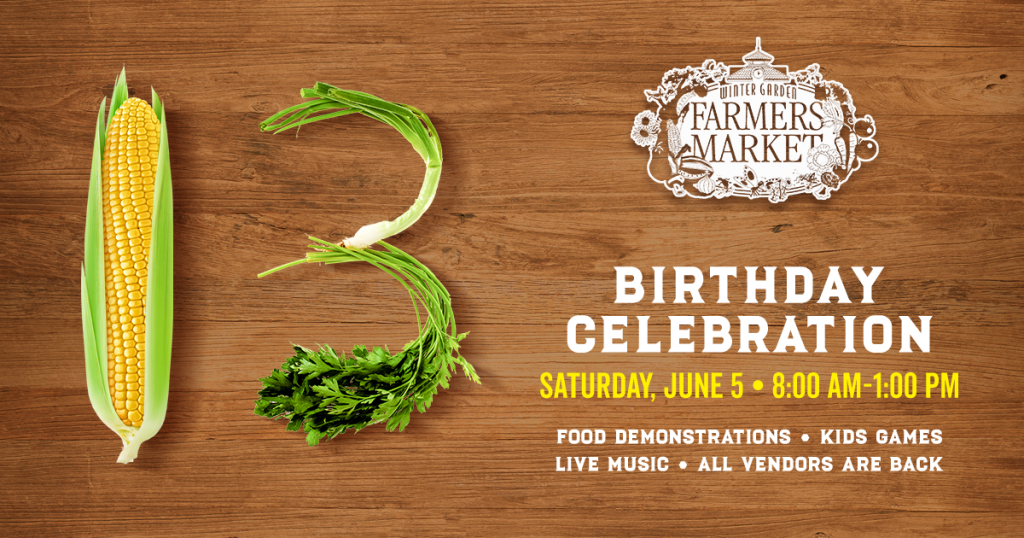 A number of fun activities are planned for the birthday celebration. Life size games such as Connect 4, Jenga, as well as corn hole and kid-friendly lawn darts and horseshoes will be spread across the greens at the adjacent linear park for all ages to enjoy. Playground balls and hula hoops galore will also be available. From 9:00 am -1:00 pm, musician James Ryan will perform live in the center of the market. A central Florida musician, Ryan will perform an eclectic repertoire to delight all ages. Grab one of the provided Adirondack chairs or bring your own chair as music fills the market air. You won't want to miss the live food demonstration at 10:00 am as Market to Table Owner and Chef Ryan Freelove breaks down a salmon recipe that can be replicated and is sure to impress.
There is great reason to celebrate the Farmers Market as it marks this milestone. Repeatedly voted the best Farmers Market state- and nation-wide by American Farmland Trust, the Market offers the largest selection of locally grown produce in Central Florida, as well as baked goods, specialty foods, seafood, meats, homemade soaps, artisan creations, fresh flowers, and so much more! With more than 80 different vendors, there is something for everyone.
It is also the perfect time to rejoice in the important attributes that the market brings to the community. Let's show appreciation by supporting its vendors this Saturday and year-round.
Benefits of a Farmers Market
A local farmers market serves as a local gathering place to buy hyper-local items that you cannot typically find in other retail stores
You will find local, fresh, healthy, flavorful, and nutrient-dense foods at the market
The market provides a retail option for local farmers to sell their products and in turn, encourages local farmers
Supports the local economy and a healthy lifestyle
Brings the community together and provides a central gathering place
Strengthens our downtown by bringing customers and visitors every Saturday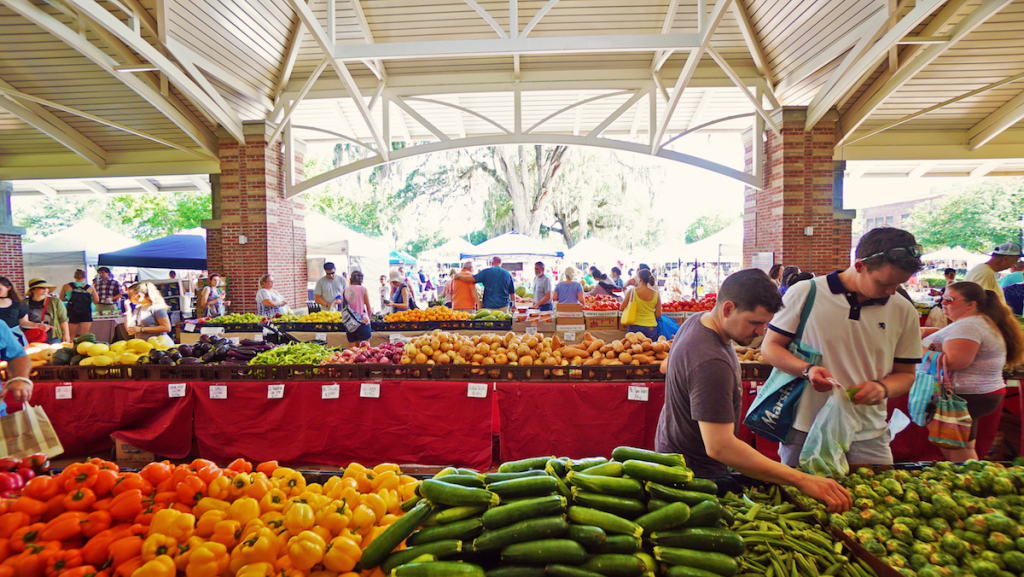 More than 20 local farms sell produce weekly at the Farmers Market, 90 percent of which is organic. These farmers work year-round to provide fresh, seasonal, and flavorful produce for the community.               
Bekemeyer Family Farm
Blueberry Hill Farm
Bountiful Farms
Do Good Farm
Frog Song Organics
Gardener's Produce
The Barefoot Farmer
Lake Meadow Naturals
Brook Hollow Farm
Sandhill Farm
Whispering Leaves Farm
Goats and Whatnot Farm
Kalera
Le Koope
Magic Greens
Nearby Naturals
Pure Produce
Thorpes Organic Family Farm
Sally Tomatoes
Seafood Guys
Sugar Top Farms
Many businesses downtown actually started in the Farmers Market before moving to a downtown storefront. Former and current Farmers Market vendors have branched out to open freestanding businesses such as Market to Table, Wildflower Beauty by Jessica, Piccolo Coffee Co., Sir Benji's Donuts, AB Newton, Press'd, and Tres Amigos. Some of our downtown businesses have joined the Farmers Market such as Deli Downtown, Nosh, and The Bulk Pantry. Many more have done so throughout the years.
This relationship between downtown businesses and market vendors ebbs and flows strengthening the Downtown economy, the offerings, and the overall character. Many local restaurants have been faithful to support our farmers market and local farmers over the years by purchasing fresh ingredients for their menus. Our town would not be the same without our beloved farmers market.
The Winter Garden Farmers Market now accepts SNAP and Fresh Access Bucks, helping to provide nutrition benefits to supplement the food budgets of those in need. We are proud to help make nutrient-dense local produce more accessible to everyone. For more information about SNAP, eligibility, and how to apply click here.
Located at the expansive Downtown Pavilion in Historic Winter Garden amidst small town charm, the Winter Garden Farmers Market is open every Saturday 8:00 am – 1:00 pm, rain or shine.
Winter Garden Farmers Market 13th Birthday Celebration
Saturday, June 5, 2021
8:00 am – 1:00 pm.
Downtown Pavilion, 104 S. Lakeview Avenue
Live Music by James Ryan, 9:00 am – 1:00 pm
Food Demonstration at 10:00 am by Market To Table Owner and Chef Ryan Freelove
Life Size Kids Games on the Lawn, 8:00 am – 1:00 pm