Winter Garden Hosts Fourth of July Events
June 7, 2022
Winter Garden is hosting multiple, FREE Independence Day festivities over the long holiday weekend to celebrate America's birthday. In addition, historic downtown is bursting with patriotic decorations accentuating its small town charm. From live music, a patriotic Farmers Market, a historical film screening at the Garden Theatre, to a down-home kids parade/pancake breakfast and a magnificent fireworks spectacular, come have some good old-fashioned fun!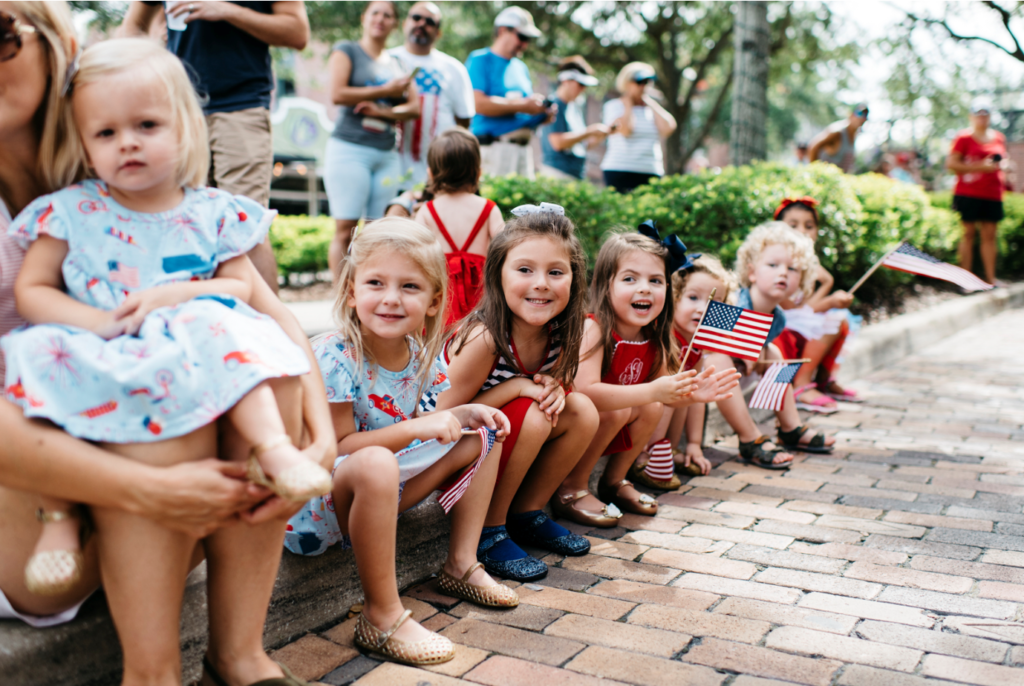 Red, White, & Blue Americana Festivities Lineup
Red, White & Blues on the Plaza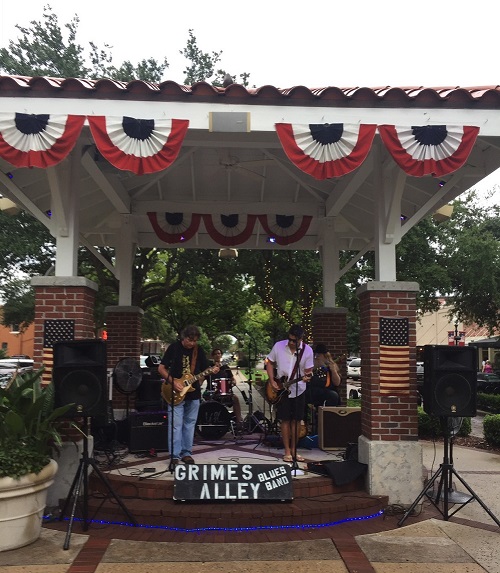 Usher in the holiday weekend with live music amidst patriotic charm. The Grimes Alley Blues Band, a popular local band that has opened for Sister Hazel, Marshall Tucker Band, and the Pat Travers Band, will perform a mix of blues and country at Centennial Plaza in the heart of historic downtown. Music will fill the air as you stroll, dine, shop, or grab a nearby seat. Red, White & Blues on the Plaza is on Friday, July 1, 7-9 p.m.
Farmers Market Independence Day Celebration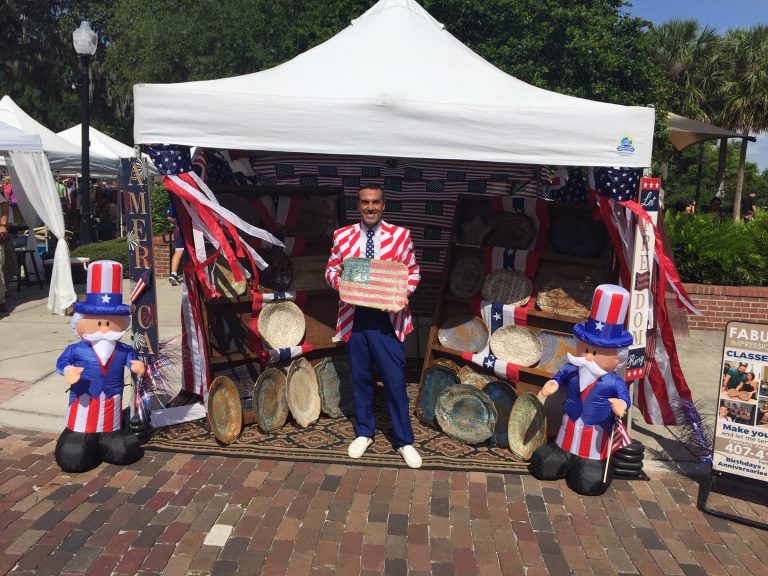 The Winter Garden Farmers Market is hosting an Independence Day Celebration on Saturday, July 2, 8 a.m.-1 p.m. The market is full of patriotic spirit with a vendor booth decorating contest and a festive-adorned pavilion. Look for the KidZone Tent on Tremaine Street near the parking garage to make holiday-themed crafts. An array of lawn games spread across the linear park adjacent to the pavilion will delight all ages. Live music will fill the market air with a variety of popular tunes.
The Farmers Market (104 S. Lakeview Ave.) is one-stop shopping for your holiday barbecue essentials with a selection of fresh meats, seafood, watermelon, breads, desserts, seasonings, dips, sauces, and a variety of summer produce. In addition, it is a great place to find unique festive décor, apparel, and so much more!
All American Kids Parade & Pancake Breakfast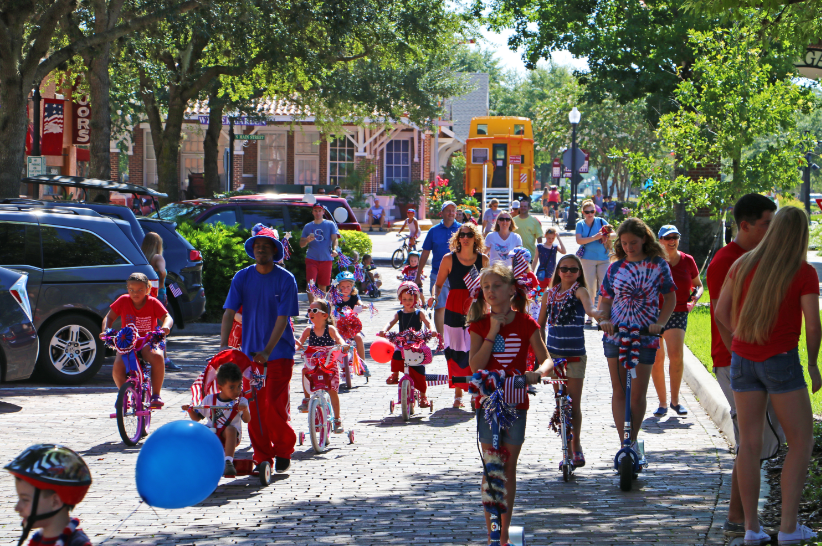 The All American Kids Parade & Pancake Breakfast returns for its 18th year! Display your patriotic spirit by decorating your scooter, bike, wagon, stroller, or yourself with red, white, and blue to parade down West Plant Street. On the other hand, secure a place along the route (feel free to bring a chair) to cheer on the parade.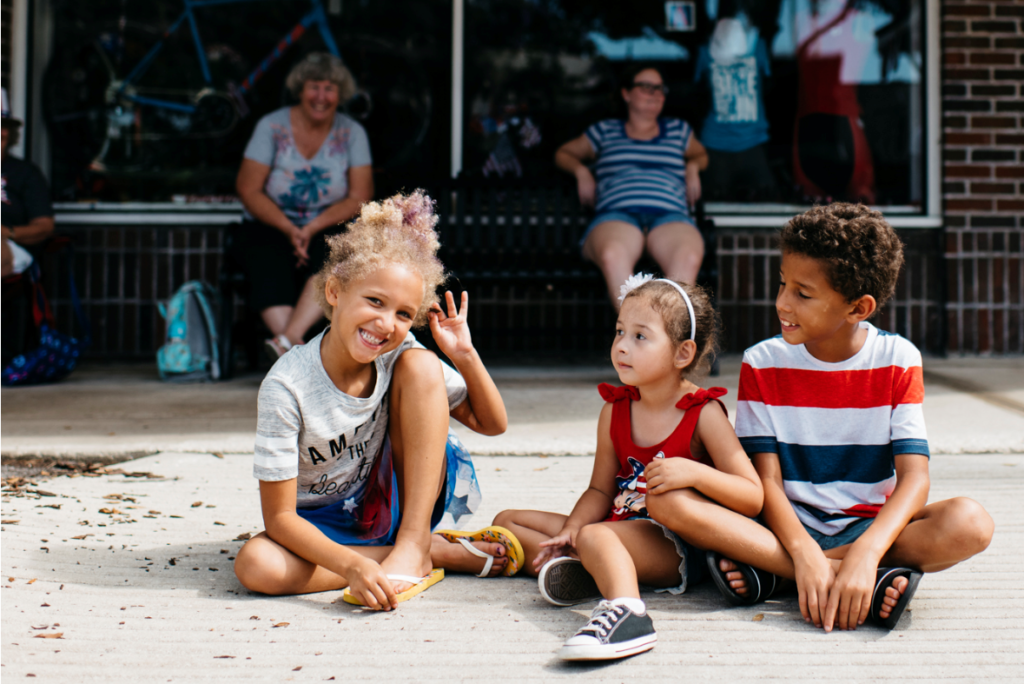 Children are treated to a complimentary Kids Pancake Breakfast, 8 a.m.-9:45 a.m., at the Winter Garden Masonic Lodge no.165 F&AM (adults welcome to dine too with a $5 donation).
Get your red, white, and blue on with complimentary decorations available at the Masonic Lodge (230 W. Bay St.) courtesy of the Winter Garden Heritage Foundation (come early for best selection). In addition, kid-friendly entertainment and activities will be provided. Parade partakers need to line up at 9:45 a.m. at the Winter Garden Masonic Lodge for the 10 a.m. kick-off.
Film Screening of WWII Documentary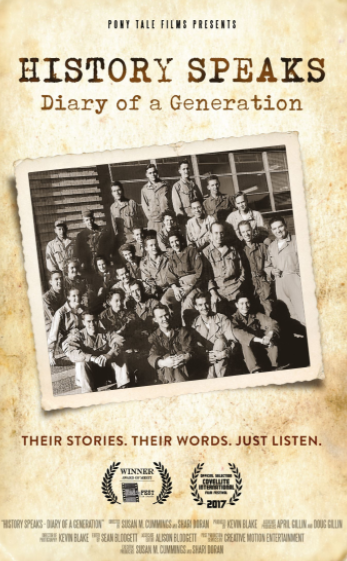 Following the downtown Parade on July 4, head inside the nearby historical Garden Theatre (160 W. Plant St.) to enjoy a poignant film about WWII as it makes a stop in Winter Garden during its national tour.
The feature film, History Speaks: Diary of a Generation, highlights the "Greatest Generation" telling their stories on how ordinary people become extraordinary when faced with the realities of living in a world at war. There will be two screenings, so be sure to catch the show at 11 a.m. or at 1:15 p.m. A Q&A with one of its filmmakers, whom is a local resident, will immediately follow the second viewing.
The 295-seat refurbished Garden Theatre, built in 1935, is a local gem boasting Mediterranean revival architecture.
Fireworks Display at Newton Park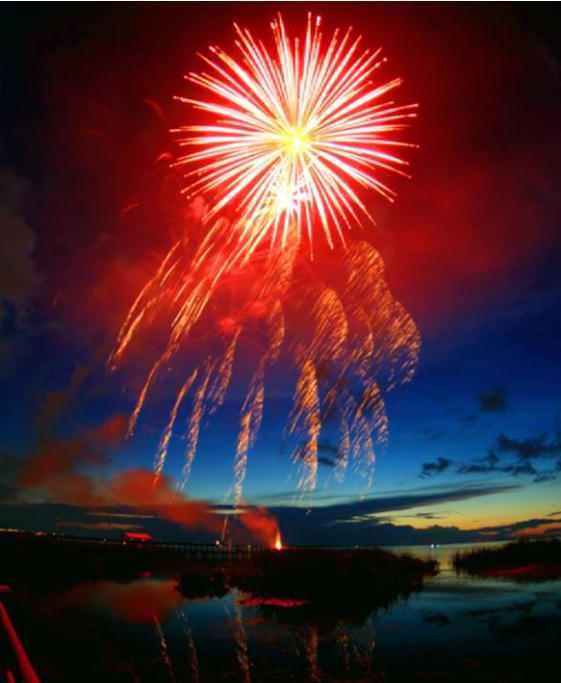 Do not miss one of the best firework displays in West Orange County! The City of Winter Garden presents the annual Party in the Park on July 4. The party kicks off at 6 p.m. with games, crafts, vendors, as well as food and beverages to purchase, and more. Bring chairs, blankets, picnic food & beverages, and grab a spot on the shore of Lake Apopka at Newton Park (29 W. Garden Ave.) to view the breathtaking Fireworks Display that begins at 9:15 p.m.
Parking is available at several locations on North Dillard Street. Personal fireworks and alcohol are prohibited.
Downtown Displays Patriotic Small Town Charm and One-Stop Shopping for Home Barbecues
Besides the fun Independence Day celebrations, the festive décor throughout the brick-lined streets of historic downtown accentuates its small-town charm and provides a great backdrop for outdoor dining, shopping, and strolling. What's more, the decorations provide the perfect setting for holiday photos.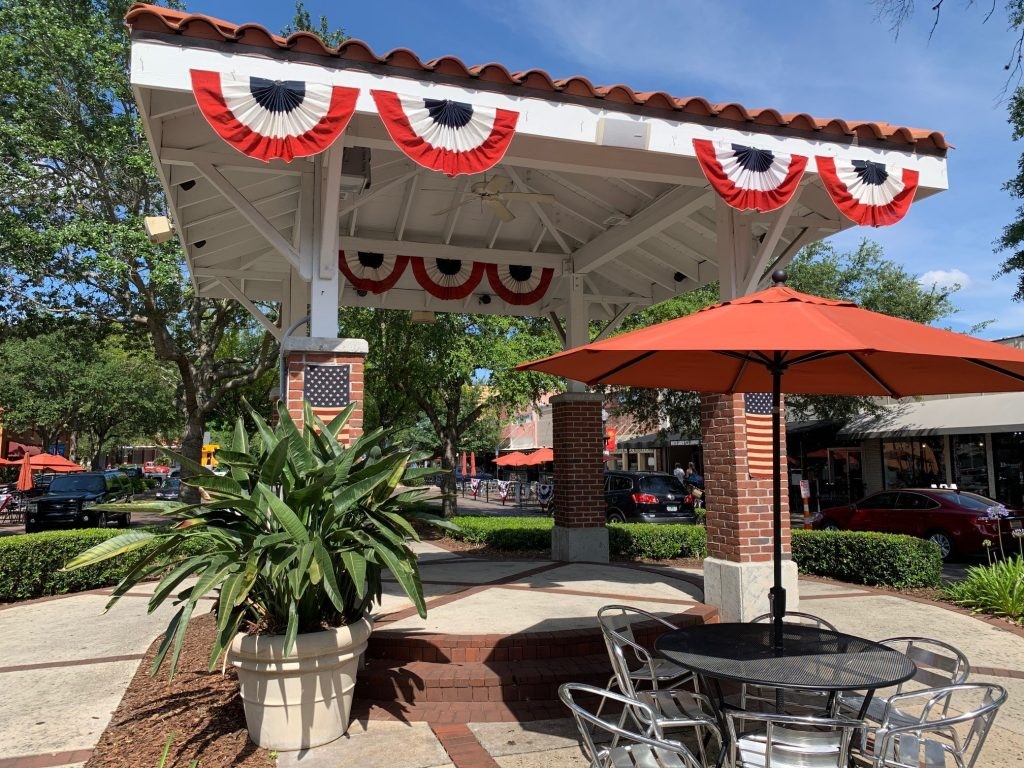 For those hosting a Fourth of July party at home, the downtown shops have unique holiday items and barbecue essentials. The Local Butcher & Market has a selection of premium meats for grilling and The Ancient Olive offers cooking seasonings, oils, and dressings. Ready-made desserts galore can be found at David Ramirez Chocolates, Rosallie Le French Cafe, Sweet Dee's Cupcakery and Custom Cakes, Sweetland Bakery, and Way Chocolate & Coffee for easy take-out.
Welcome guests with patriotic décor and housewares from Adjectives Market, Driftwood Market, and Swalty Sisters. Add some fresh greenery to your home or pick up a unique plant for a hostess gift from LiveTrends Boutique and Ruby & Rust. Summer is the perfect time for outdoor gatherings and for updating your patio furniture with custom-made designs from Heirloom Amish Furniture.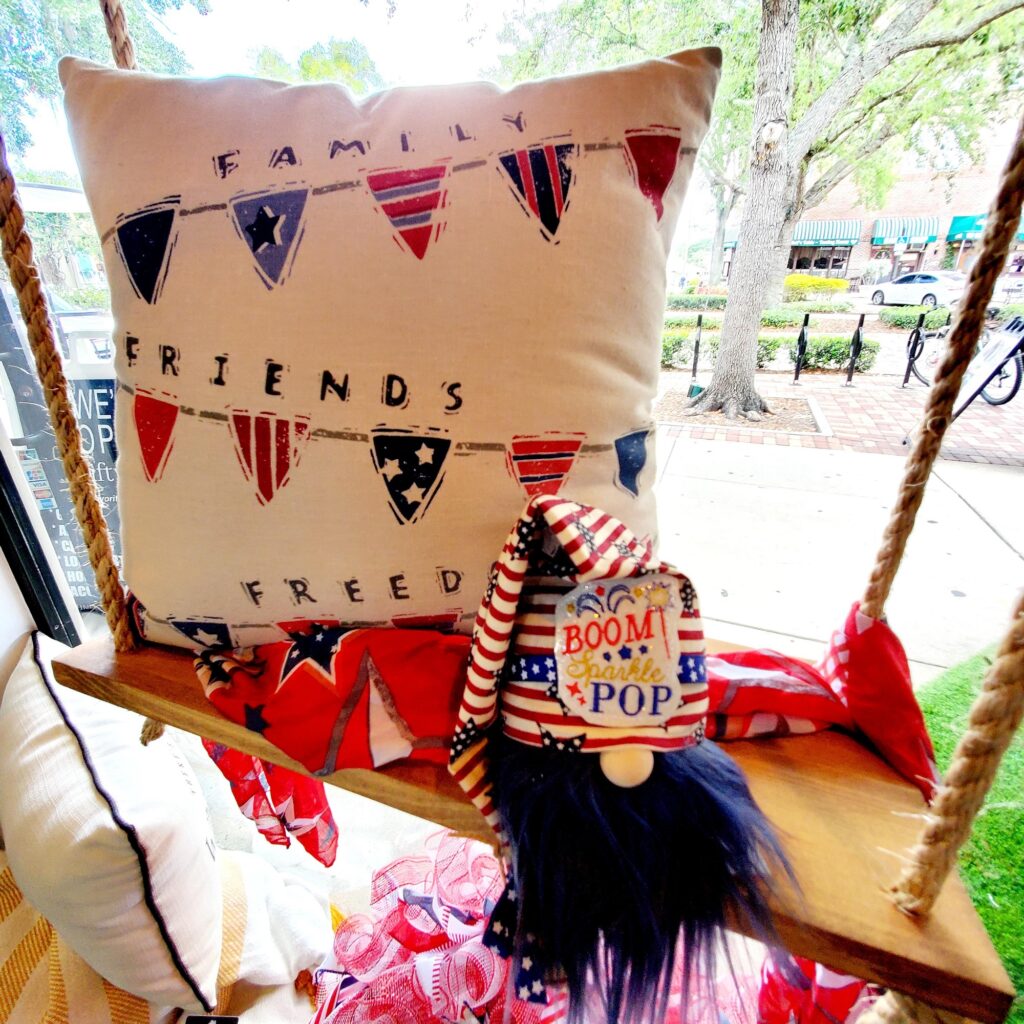 Looking for the perfect outfit for the holiday and for the summer season? Downtown Winter Garden is a premier destination for women boutique shopping. Stop in Apricot Lane Boutique, The Boutique on Plant, Doxology, Polka Dotz, and Shoo Shoo Baby Boutique to find the latest fashions and accessories.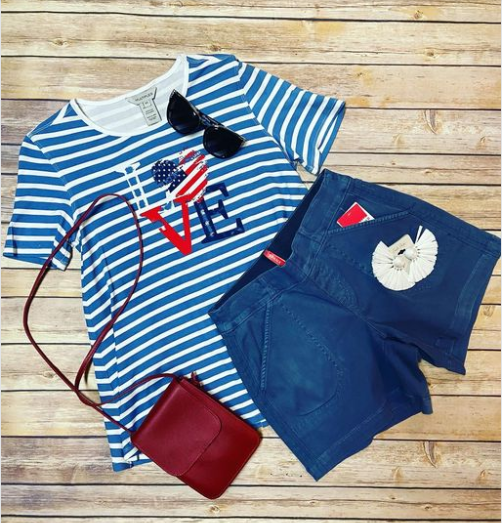 With a long weekend of festivities, there is something for all ages to celebrate Independence Day 2022!