Winter Garden Hosts Nostalgic Fourth of July Events
June 2, 2023
Winter Garden is celebrating America's birthday in a big way with several free community events. In addition to the Red, White & Blue Americana festivities, historic downtown is adorned in patriotic colors making it a nostalgic backdrop to stroll, dine, shop, take photos, and kick back with family and friends. The small town charm mixed with the traditional celebrations makes Winter Garden the ideal place for some good old-fashioned holiday fun!
Red, White & Blue Americana Festivities Lineup
Winter Garden Farmers Market Independence Day Celebration | Saturday, July 1, 8 a.m. – 1 p.m., featuring a kids' holiday crafts station, live music, family-friendly lawn games, patriotic decorated vendor booths, and one-stop shopping for BBQ essentials.
Annual All American Kids Parade and Pancake Breakfast | Tuesday, July 4 | Parade line up at 9:45 a.m. at the Winter Garden Masonic Lodge for the 10 a.m. kick-off, preceded by a kids-eat-free pancake breakfast.
Party in the Park & Fireworks Display | Tuesday, July 4, 6 -10 p.m., fireworks show at 9:15 pm | Newton Park.
Farmers Market Independence Day Celebration
The Winter Garden Farmers Market hosts an Independence Day Celebration on Saturday, July 1, 8 a.m.-1 p.m. Children can make a decorative holiday craft to take home at the kids' art tent on Tremaine Street near the parking garage. An array of lawn games at the park adjacent to the pavilion provides outdoor fun for the whole family. Live music fills the market air with a variety of popular and tunes. The market displays lots of patriotic spirit as the vendors participate in a booth-decorating contest.
While at the market, pick up your holiday barbecue essentials with a vast selection of fresh meats, seafood, breads, desserts, seasonings, dips, sauces, and a variety of summer produce, including the must-have — watermelon! You will also find festive décor, flowers, apparel, accessories, and so much more to make your gathering extra special! The festive atmosphere makes the market a spirited place to gather and shop in anticipation of the holiday.
All American Kids Parade & Pancake Breakfast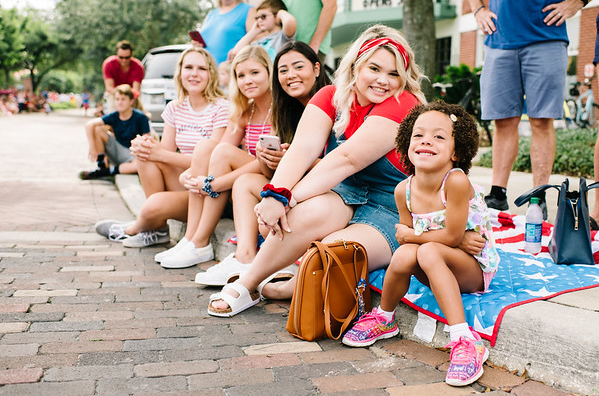 The All American Kids Parade & Pancake Breakfast returns for its 19th year on Tuesday, July 4. Display your patriotic spirit by decorating your scooter, bike, wagon, stroller, or yourself with red, white, and blue to parade down West Plant Street. Bystanders are needed to cheer on the parade participants so come early to secure a place along the route for a curbside viewing spot (feel free to bring a chair).The parade launches from the Winter Garden Masonic Lodge No. 165 F&AM, 230 W. Bay St., promptly at 10 am (line up at 9:45 am). The route heads east on W. Plant Street and loops around at Main Street before returning to the Masonic Lodge.
Arrive early for the annual complimentary Kids Pancake Breakfast immediately before the parade. Provided by at the Masonic Lodge, the breakfast is served 8 – 9:45 a.m. Adults are welcome to dine too for a nominal donation.
Before the start of the parade, adorn yourself, bikes, scooters, and wagons with red, white, and blue thanks to complimentary decorations available outside the Masonic Lodge for parade participants, courtesy of the Winter Garden Heritage Foundation (come early for best selection). In addition, kid-friendly entertainment and activities are provided. The annual All American Kids Parade is a down-home tradition and a memory maker!
Party in the Park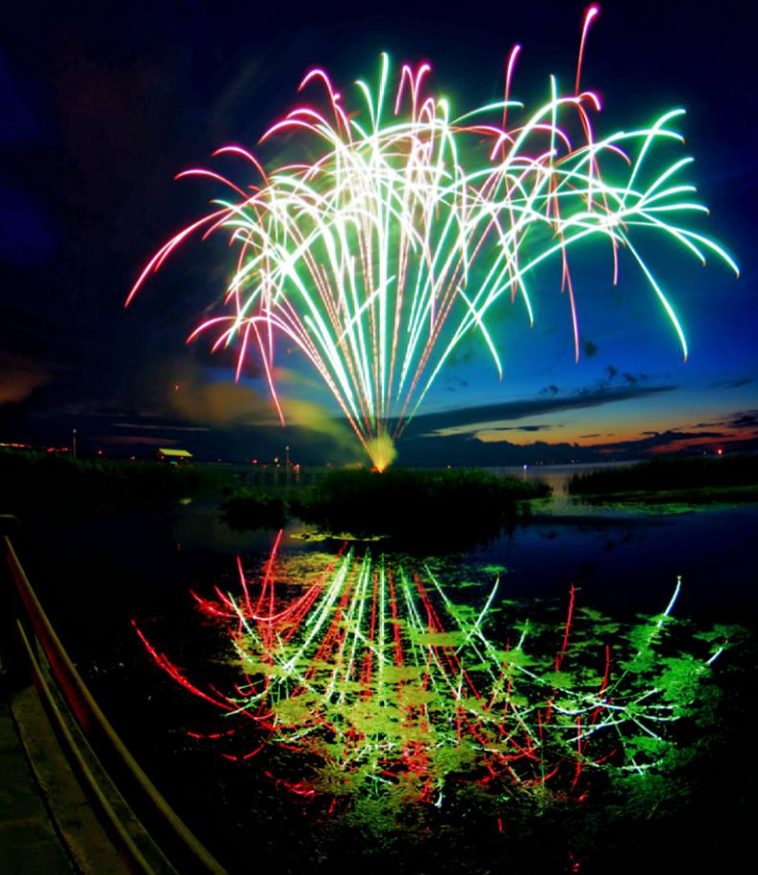 One of the best firework displays in West Orange County is right in Winter Garden! The annual Party in the Park is on Tuesday, July 4, 6 – 10 p.m. Hosted by the City of Winter Garden, the party kicks off at 6 p.m. with complimentary games and crafts, as well as vendors and food and beverages to purchase. Bring chairs, blankets, pack a picnic, and grab a spot on the shore of Lake Apopka at Newton Park (29 W. Garden Ave.) to view the breathtaking Fireworks Display. The fireworks begin at 9:15 p.m. Free parking is available at several locations on North Dillard Street. Personal fireworks and alcohol are prohibited.
Celebrate Fourth of July Every Day in Downtown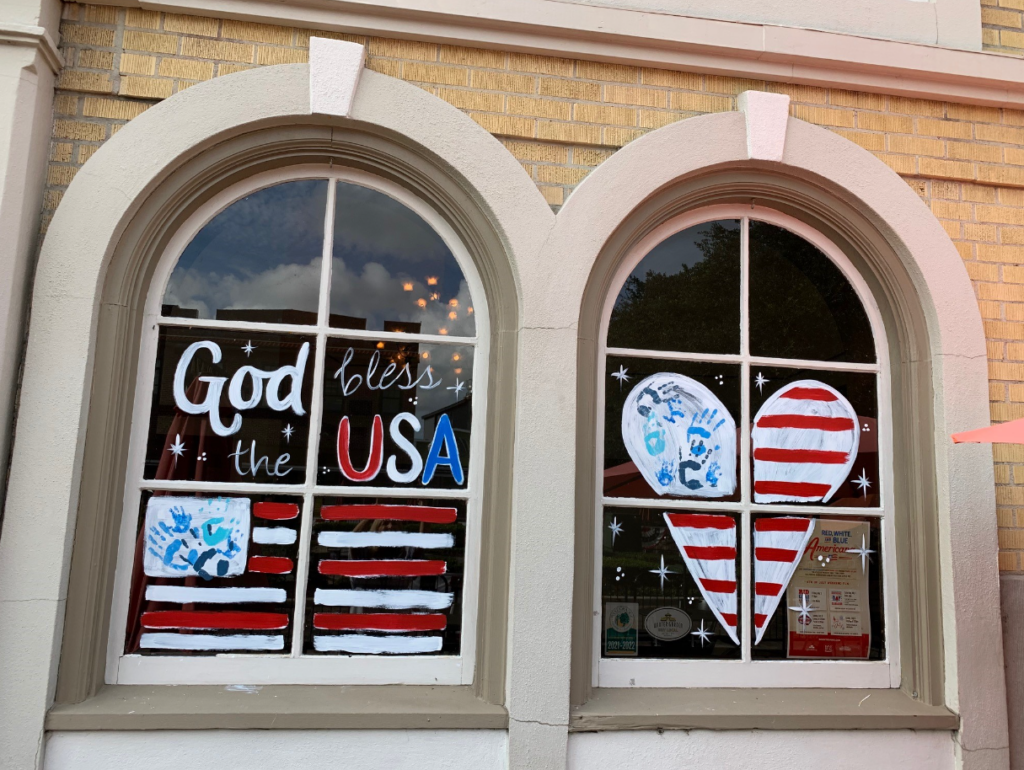 Besides the fun Independence Day celebrations, historic downtown is bursting with patriotic spirit every day through July 4th. Red, white and blue decorations cascade on outdoor structures and dining areas and many storefronts mark the occasion with window paintings. The festive décor makes downtown a fun gathering spot on any day or night to celebrate the holiday. Be sure to capture Fourth of July 2023 memories in photos using the themed backgrounds.
The downtown shops have everything one needs for Independence Day gatherings from outfits, accessories, holiday home décor and party ware, to barbecue ingredients and ready-made festive desserts. Take the day off from grilling this year to dine downtown instead. With the variety of cuisine available, in addition to the festive outdoor dining patios, everyone will enjoy feasting under the stars and amongst the patriotic décor.
Red, White and Blue Americana events are hosted by the City of Winter Garden. Admission is free-of-charge for the community to enjoy.