A Holiday Wonderland Awaits in Historic Downtown
November 16, 2023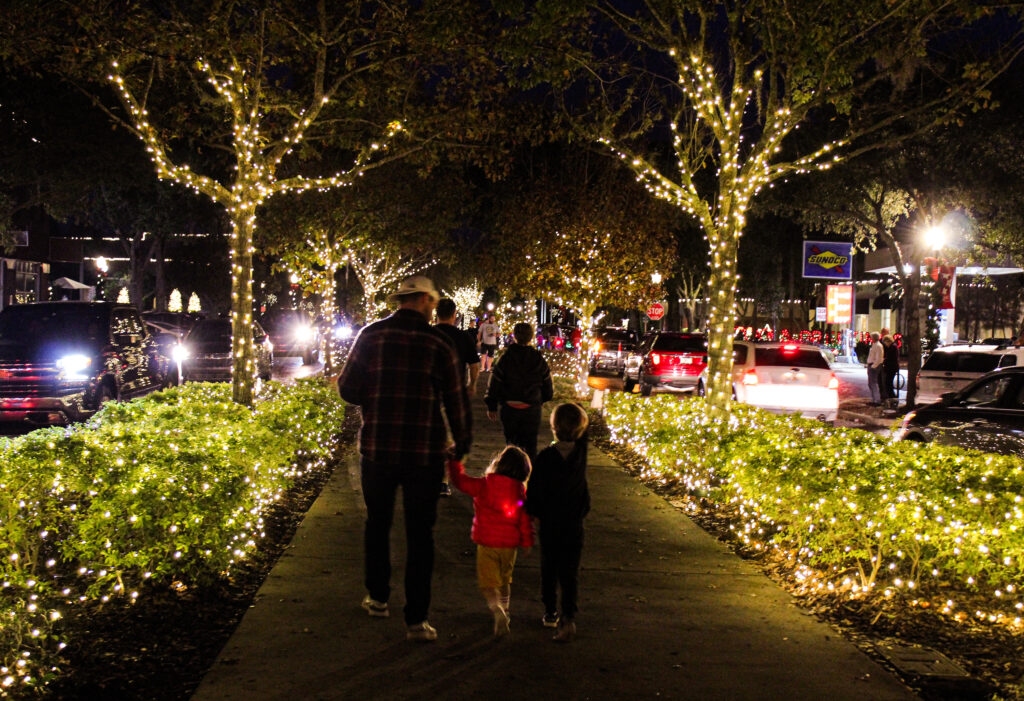 Enter a holiday wonderland as festive decorations and light displays adorn historic downtown Winter Garden, embellishing its small-town charm. Courtesy of the City of Winter Garden, visit December 1, 2023, – January 7, 2024, to enjoy the sights and sounds of the season along with a variety of holiday events and plenty of unique shopping and dining options. This local holiday haven is ideal for making merry memories!
Holiday Wonderland Highlights:
34-foot-tall Christmas tree with 2,400 LED lights and nearly 1,000 ornaments
Towering poinsettia trees made up of 1,300+ plants
Festive light displays and decorations — even brighter and more colorful than ever
Themed photo stations for picture-perfect holiday cards and social posts
Painted holiday window storefronts
Outdoor dining patios amid holiday trimmings
With the holiday wonderland as the backdrop, festive events and activities throughout December will delight all ages. Click here for a comprehensive calendar of downtown holiday happenings, and below is a rundown of some of what is in store:
Light Up Winter Garden
Join us at the 36th annual Light Up Winter Garden on Friday, December 1, 6-9 p.m., to welcome the holiday season and kickoff downtown's 38 days of Tis the Season festivities. The lighting will take place at 6:15 pm at City Hall (300 W. Plant St.), followed by a variety of holiday entertainment and activities for all to enjoy, including snow activities. Duke Energy and the City of Winter Garden sponsor the event.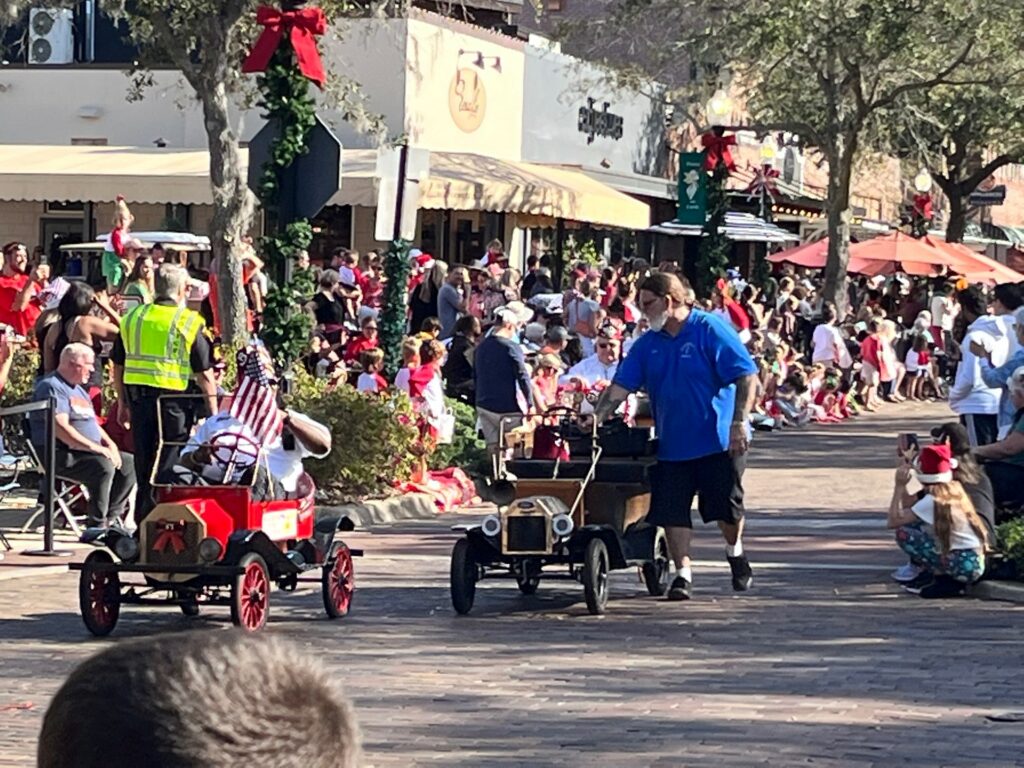 Winter Garden Christmas Parade
Bring a lawn chair or blanket and head to your favorite viewing spot for a long-standing Winter Garden holiday tradition on Saturday, December 2. Hosted by the City of Winter Garden, the Winter Garden Christmas Parade kicks off at 10 a.m. from Dillard Street and loops through downtown to bring holiday cheer to spectators!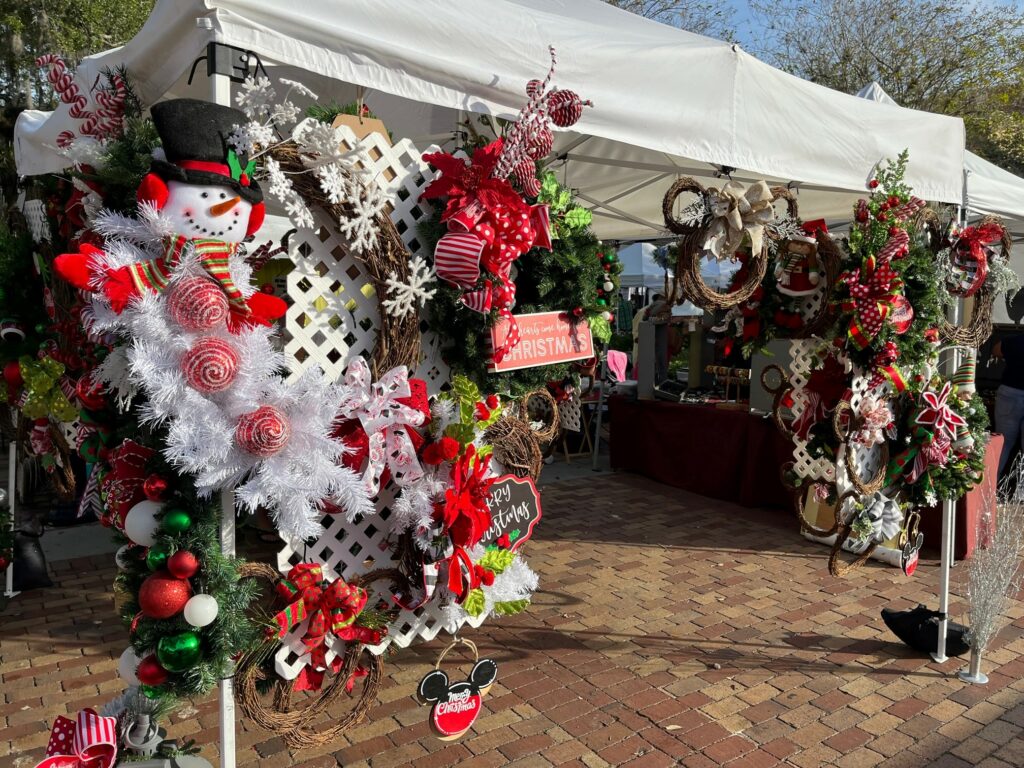 Holiday Market
Experience a traditional outdoor Holiday Market right in historic downtown Winter Garden with festive shopping and merry entertainment for all ages. The pedestrian-only market takes place on Saturday, December 2, from 1 p.m. to 4 p.m., and features booths lining the streets selling a variety of holiday items from décor, ornaments, pet items, to cookies, cakes, chocolates, and lots more. Sponsored by the City of Winter Garden, free live holiday entertainment adds to the festivities with strolling Dickens Carolers, free hand-drawn holiday caricatures, outdoor children's story time of holiday classics, and more!
Look for the Holiday Market booths and entertainment along West Plant Street from Woodland Avenue to Lakeview Avenue, as well as along South Main Street and South Lakeview Avenue (stretching from Plant Street to Tremaine Street).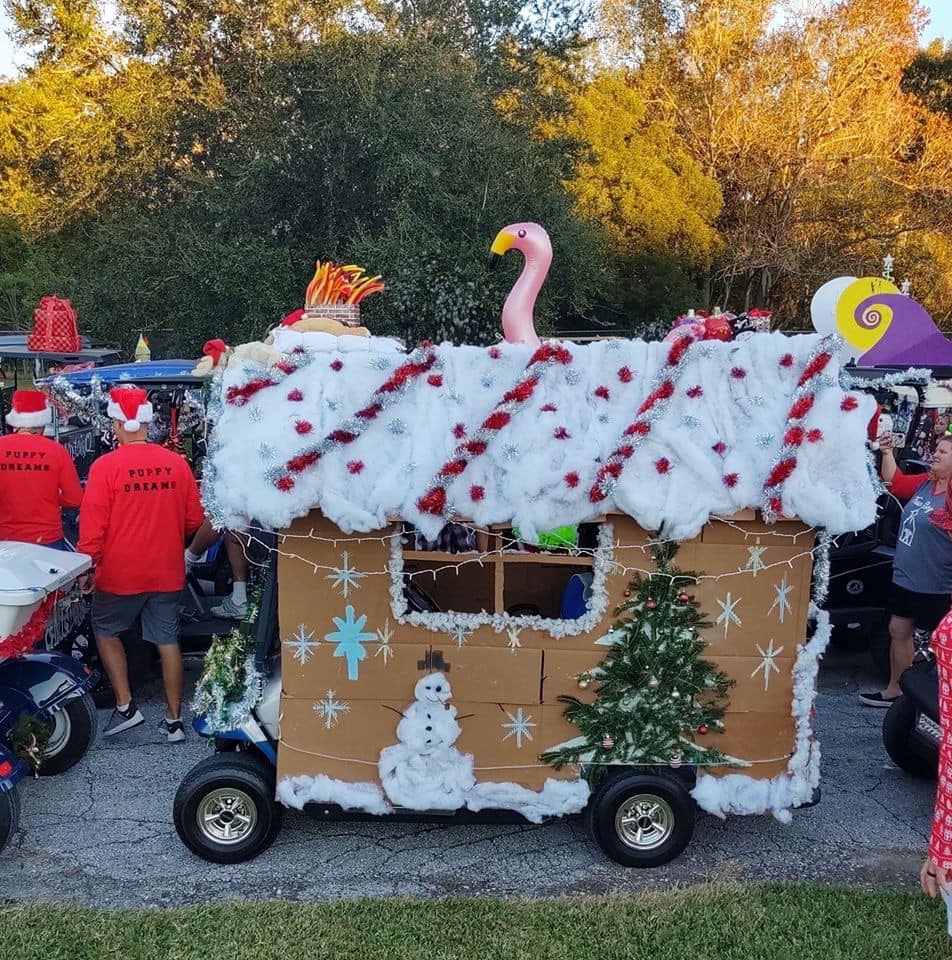 Winter Garden Christmas Golf Cart Parade
Whether you are participant or a bystander, everyone will have fun at the 11th annual Winter Garden Christmas Golf Cart Parade on Saturday, December 2, at 6 p.m. Brace yourself for the most elaborate and creative golf carts you could ever imagine as they parade through historic downtown! Hosted by West Orange Junior Service League and the City of Winter Garden. Come early for a good viewing spot!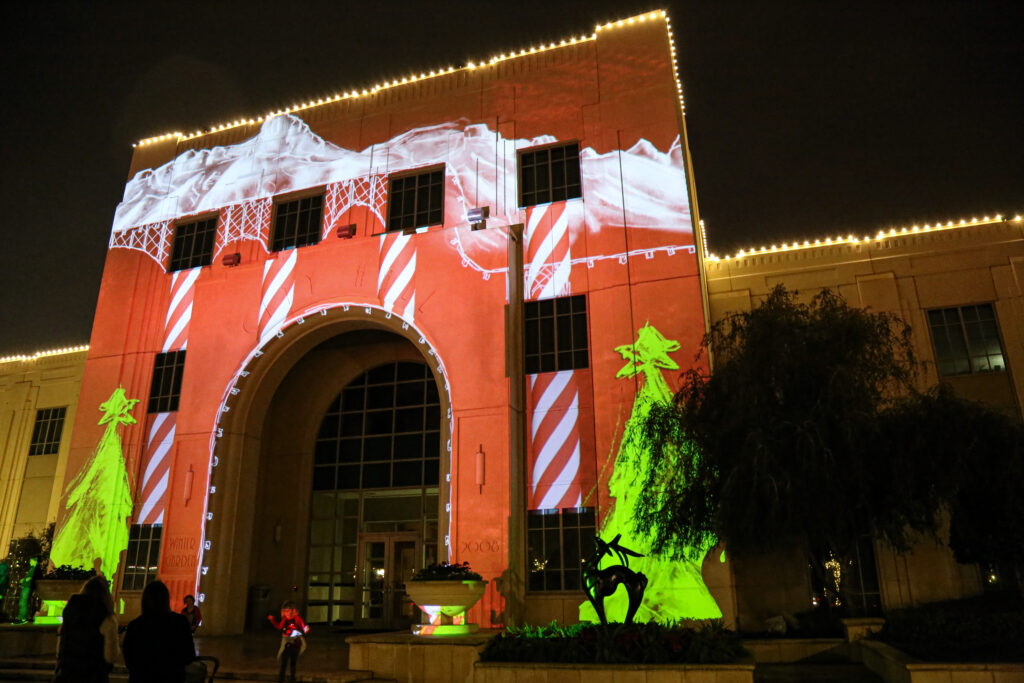 A Merry Winter Garden Light Show
This annual animated holiday light extravaganza has become a holiday tradition to so many households. The front façade of Winter Garden City Hall (300 W. Plant St.) becomes the canvas for this spectacular show synchronized to music. Courtesy of the City of Winter Garden, the 25-minute display runs in a continuous loop from 6-9 pm on December 2, 3, 8-10, 15-17, 22 and 23.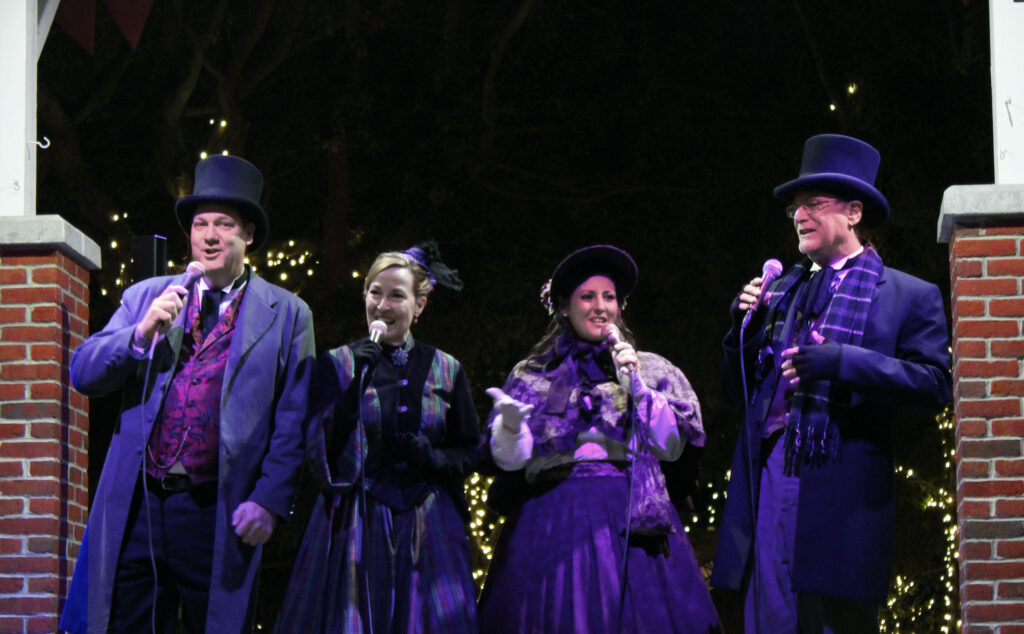 Strolling Entertainment & Live Holiday Music
From holiday themed break dancers to character stilt walkers, strolling performers will provide entertainment on Friday and Saturday evenings (6-9 p.m.), December 1-23. In addition, every Friday night in December will feature live holiday music at Centennial Plaza, 7-9 p.m. Be on the lookout throughout downtown for this festive fun hosted by the City of Winter Garden.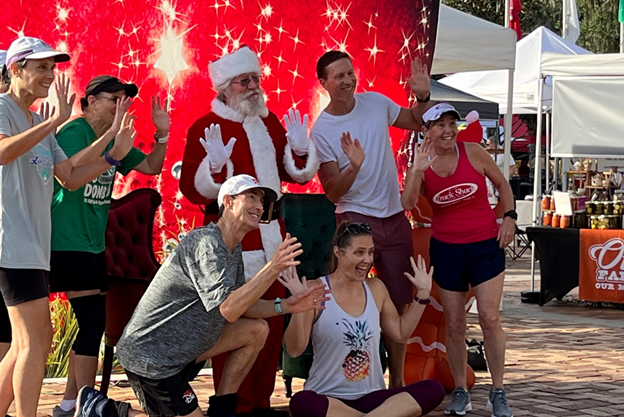 A Very Merry Farmers Market
Be sure to stop by A Very Merry Farmers Market on Saturdays in December. Santa makes a special visit to the market on December 9 and 16 to hear wish lists and take photos, 9 a.m.-12 p.m. Look for him at the Gingerbread House at Parking Garage Plaza, 160 S. Boyd St.
With more than 100 vendors weekly, the Winter Garden Farmers Market located at the Downtown Pavilion (104 S. Lakeview Ave.), is a great place for seasonal decorations, holiday flowers and plants, wreaths, gift items, fresh produce, sweet treats, artisan food, desserts, and more to make your holidays festive.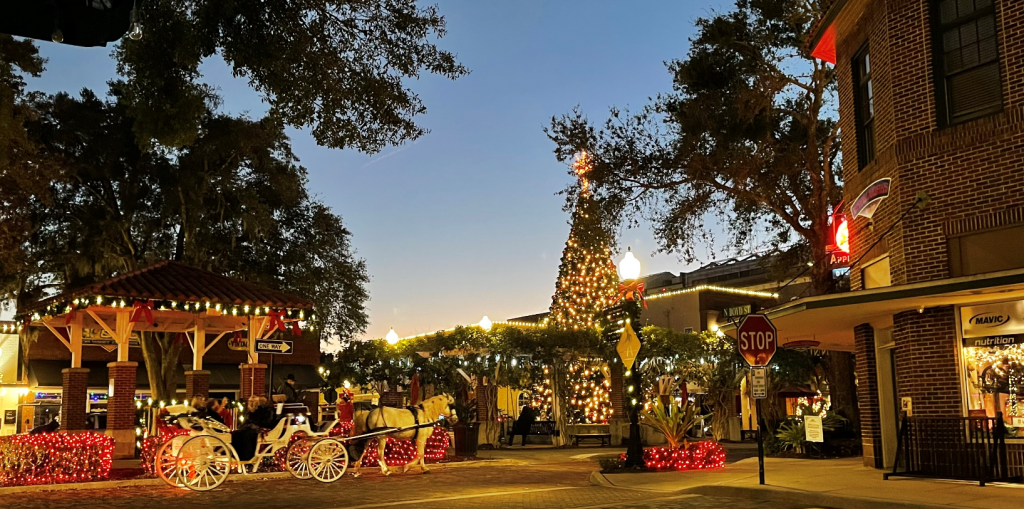 Horse Drawn Holiday Carriage Tours
Step into a horse drawn carriage at the Downtown Pavilion (104 S. Lakeview Ave.) for a magical way to take in the festive sights and sounds of downtown. SOUL Haven Ranch is offering 20-minute horse drawn carriage tour experiences, 5:30-9:30 pm, on select nights on December 3, 10, 12, 14, 17-21, and 26-28. Click here to make a reservation.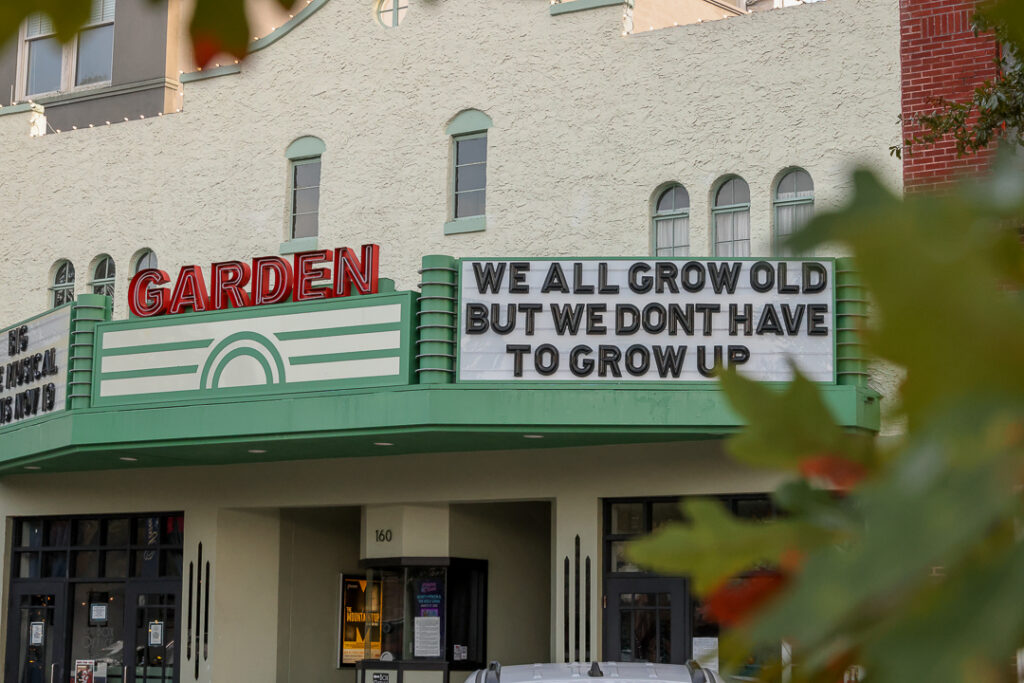 Garden Theatre Holiday Show & Movies
The historic Garden Theatre (160 W. Plant St.) is offering special holiday programming adding to all the festive things to do downtown. Moonshine & Mistletoe: An Appalachian Christmas Tale is a wholesome holiday theatrical event for the entire family with live performances November 24 – December 23. In addition, the Theatre is showing classic holiday movies including It's a Wonderful Life on November 28, Elf on December 5, and The Nightmare Before Christmas on December 12. All movies start at 7 p.m. and tickets are $12.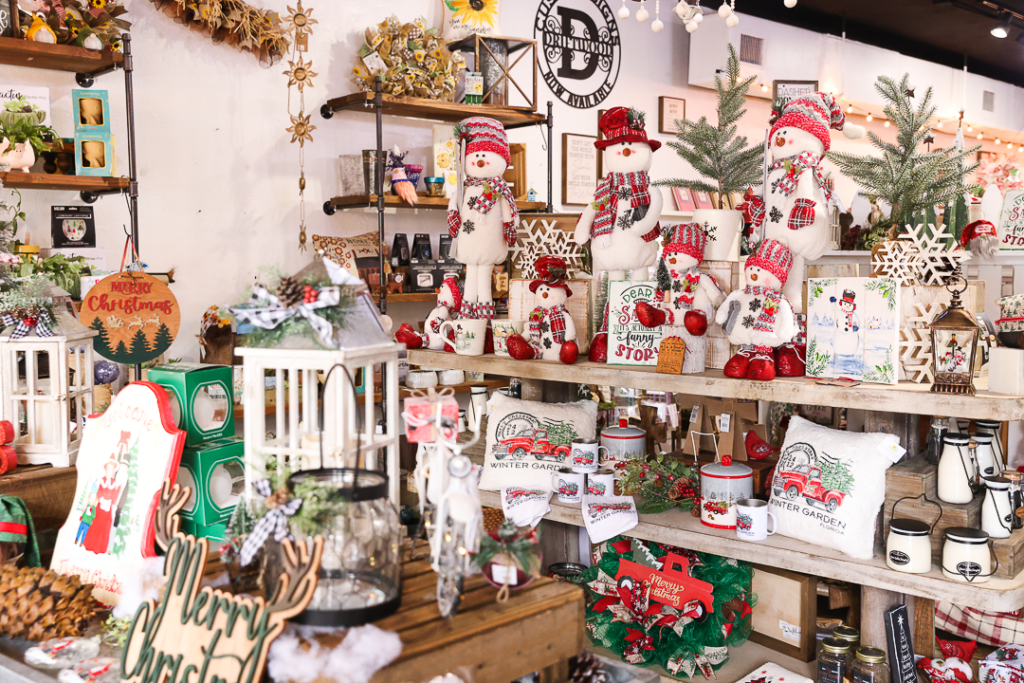 Holiday Shopping
Check items off your gift list while enjoying the holiday charm with the variety of local-owned shops lining downtown's festive streets. Here you will find unique, one-of-a-kind gifts with personalized customer service to help find that something special for that special someone. From apparel, accessories, jewelry, and sporting goods to home décor, gourmet seasonings, bakeries, chocolate shops, and all the fixings for hosting, downtown is one-stop holiday shopping.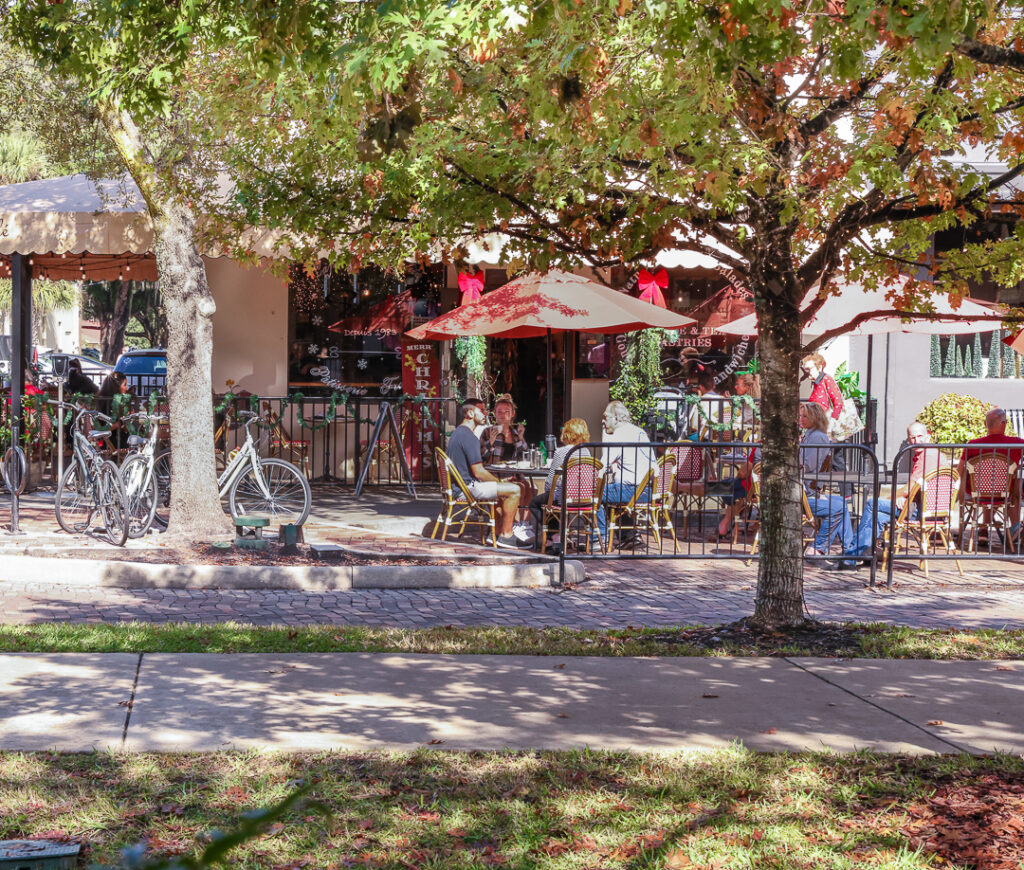 Holiday Dining
The spacious outdoor patios throughout downtown create the perfect venue for al fresco dining amidst the twinkling holiday lights and decorations. Gather family and friends for a holiday get together they will remember with an array of casual and fine dining options available to suit all cravings. Embrace the holiday charm by grabbing a spice latte, a hot chocolate, or a caramel Boba tea. Be sure to accompany it with a gingerbread or sugar cookie, a holiday cupcake, peppermint ice cream, or perhaps some holiday chocolates. With all the cafés and dessert shops, there are plenty of options to satisfy your sweet tooth.
Parking is always free downtown with convenient public parking along West Plant Street, at the Downtown Parking Garage (160 S. Boyd St.), at the 117-space parking lot at 37 N. Boyd St., as well as at nearby additional public parking areas.