Downtown becomes a Winter Wonderland
November 30, 2021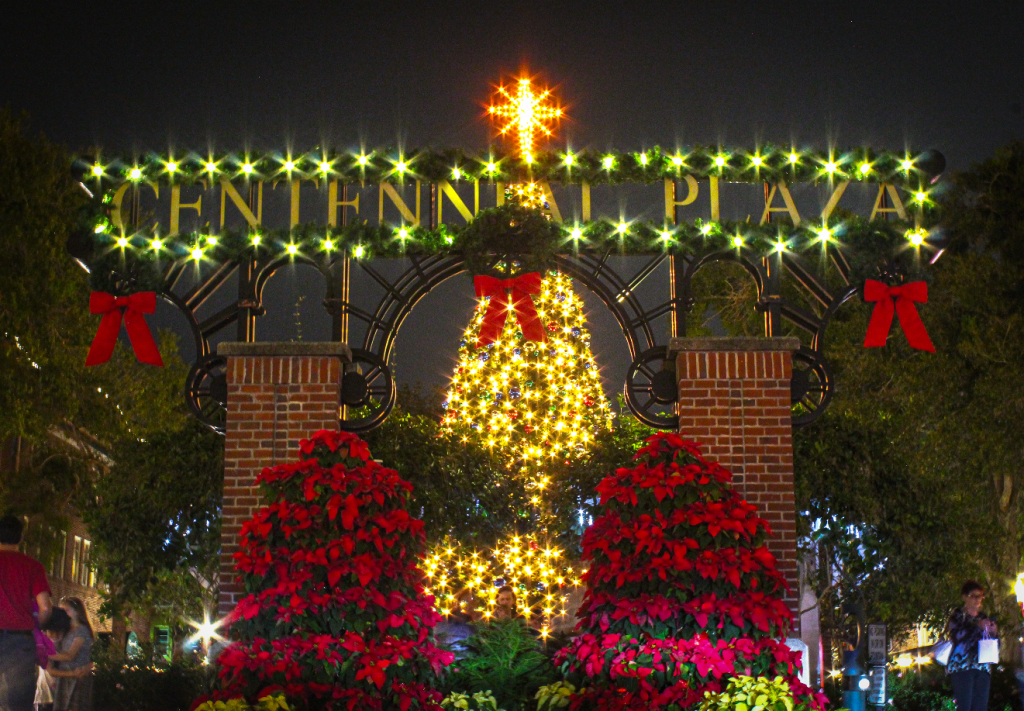 If you are looking for the best winter wonderland in Central Florida, visit Downtown Winter Garden in December. The historic downtown district is a premier destination for holiday fun throughout the month with a long list of "Tis the Season" events as well as festive surroundings to make merry memories.
VISIT OUR WINTER WONDERLAND
Historic Downtown is transformed into a picturesque holiday scene with the sights and sounds of the season. Visitors will find the following to make their holiday bright:
Christmas Tree at Centennial Plaza
themed photo locations for picture-perfect holiday cards and social posts (click here for the 10 best photo spots)
painted holiday mural wall at 49 S. Main St.
festive light displays, decorations, and music
a colorful-lit Downtown Interactive Fountain
seasonal window displays at unique locally-owned shops

expansive outdoor dining patios with holiday trimmings
The festive decorations will adorn Downtown through January 9, 2022, providing the perfect backdrop for outings with family, friends, and out-of-town guests.
ENJOY LINE UP OF TIS THE SEASON EVENTS
Downtown is merry all month long with a host of holiday events for all ages to enjoy.
All activities are free except for those noted that require reservations.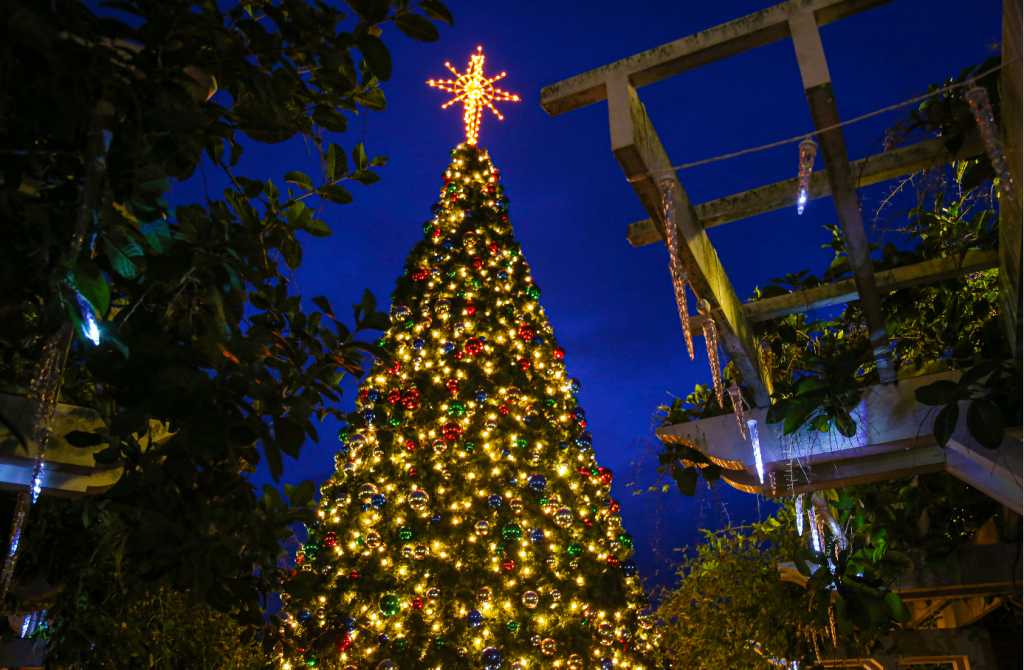 Light Up Winter Garden
Join us at Light Up Winter Garden on Friday, December 3, 6-9 pm, to welcome the holiday season with this annual event to kick off our 38 days of Tis the Season. The lighting will take place at 6:15 pm at City Hall (300 W. Plant St.), followed by various activities for all to enjoy.
Duke Energy and the City of Winter Garden sponsor the event.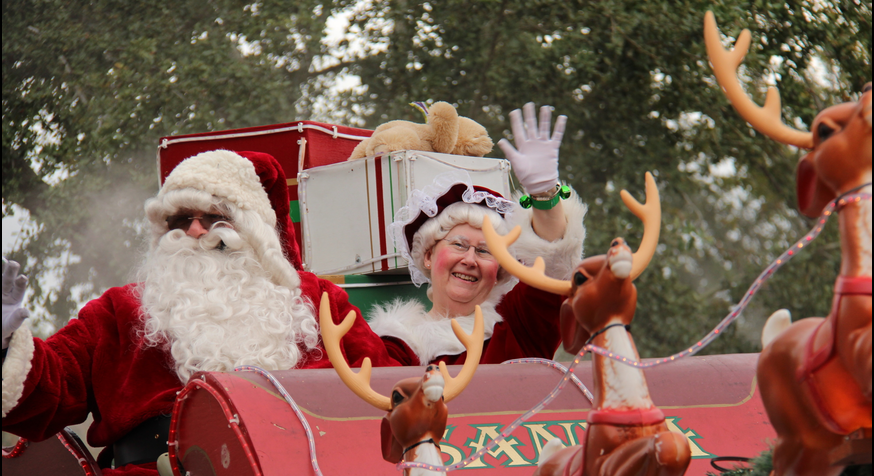 Winter Garden Christmas Parade
Bring a lawn chair or blanket and head to your favorite viewing spot for a long-standing Winter Garden holiday tradition on Saturday, December 4. The Winter Garden Christmas Parade kicks off at 10 am on West Plant Street, loops through Downtown Winter Garden to delight spectators and brings in holiday cheer! Do not forget to look for the Big Guy himself at the end of the parade!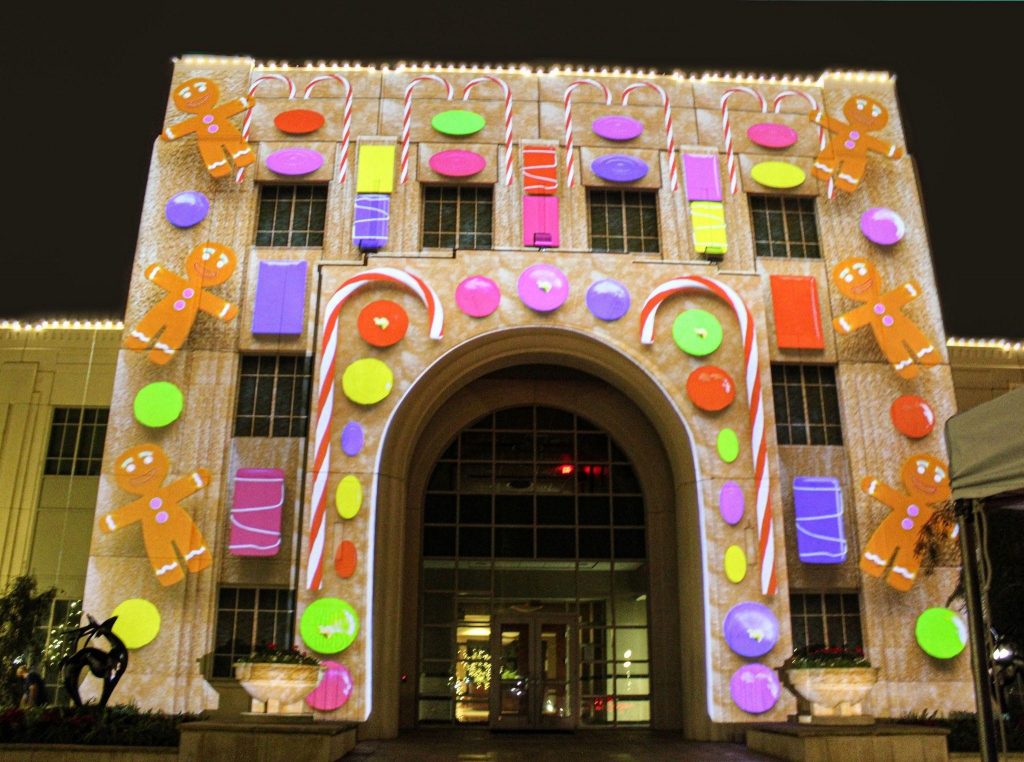 A Merry Winter Garden Light Show
This annual animated holiday light extravaganza has become a holiday tradition to so many households. The front façade of Winter Garden City Hall (300 W. Plant St.) becomes the canvas for this spectacular show synchronized to music. The 25-minute display runs in a continuous loop from 6-9 pm on December 4, 10, 11, 12, 17, 18, 19, and 23.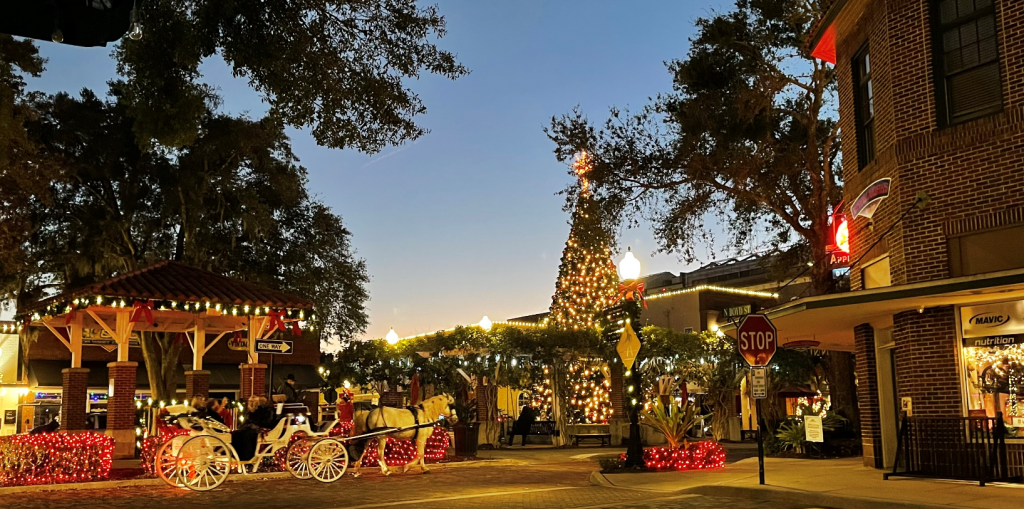 Horse Drawn Holiday Carriage Tours
Right out of a Hallmark movie, SOUL Haven Ranch is offering 20-minute horse drawn carriage tour experiences through festive downtown Winter Garden on select nights throughout the month. The tours are available from 5:30 – 9:30 pm on December 4, 10, 11, 17-19, 22-24, and 26-30. Step into the carriage at the Downtown Pavilion (104 S. Lakeview Ave.) and enter a fairy tale adventure as you wind through the festive sights and sounds of downtown. Click here to make a reservation.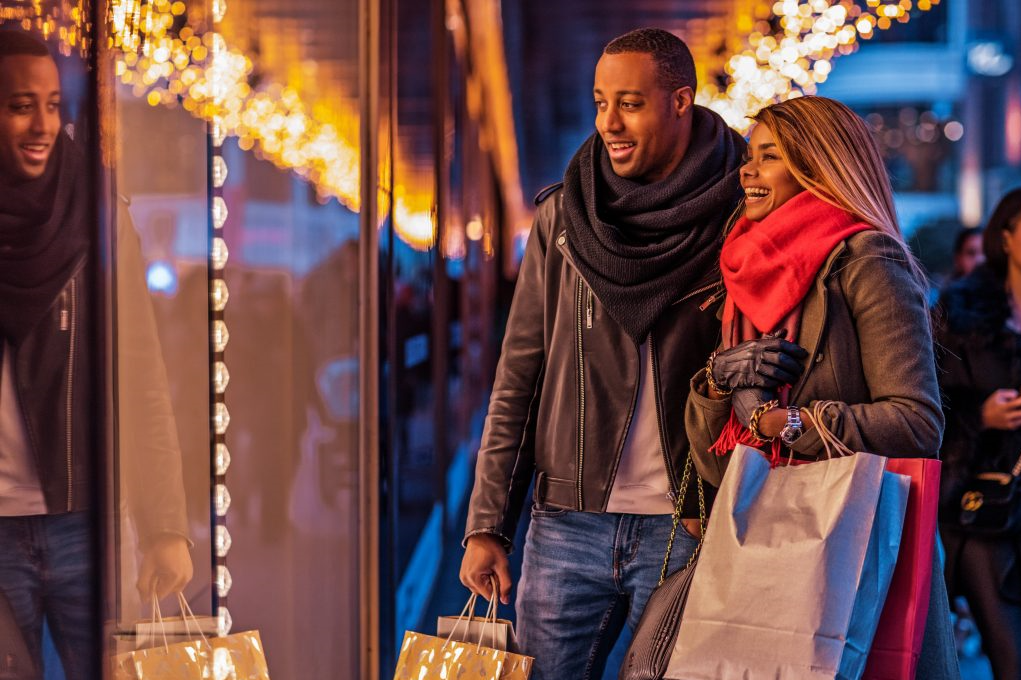 Holiday Boutique Stroll
Stroll from shop-to-shop in the historic downtown winter wonderland for an evening of sips, snacks, and shopping. Invite your friends and family to the Holiday Boutique Stroll on Thursday, December 9, from 5 –8 pm and create a festive memory while checking items off your gift list. Participating shops will host light refreshments, in-store raffles, and outdoor and indoor specials.
Hosted by
Adjectives Market, 137 W. Plant Street
Apricot Lane Boutique, 264 W. Plant Street
The Boutique on Plant, 111 W. Plant Street
Doxology, 49 S. Main Street
Driftwood Market, 46 W. Plant Street
GeeGee's Gems, 24 E. Joiner Street
LiveTrends Boutique, 279 Tremaine Street
Polka Dotz, 12 W. Plant Street
Ruby & Rust, 31 S. Main Street
Shoo Shoo Baby Boutique, 117 S. Boyd Street
Wildflower Beauty by Jessica, 100 W. Plant Street
Writer's Block Bookstore, 32 W. Plant Street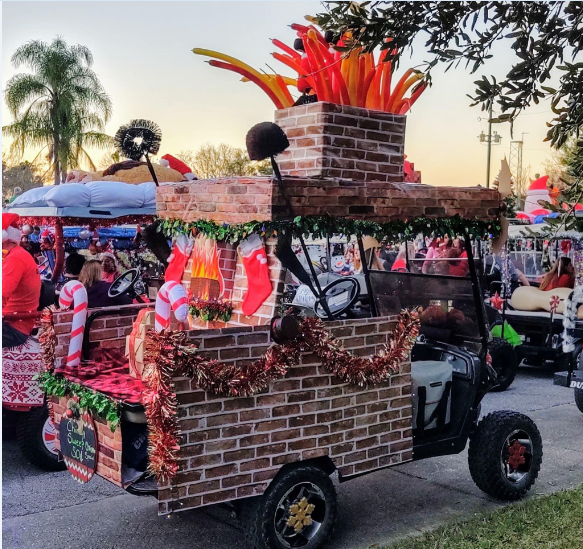 Winter Garden Christmas Golf Cart Parade
Whether you are participant or a bystander, everyone will enjoy the parade of festive-decorated golf carts on Sunday evening, December 19. Hosted by West Orange Junior Service League, the ninth annual Winter Garden Christmas Golf Cart Parade launches from Dr. Bradford Memorial Park (220 W. Division St.) at 5:45 pm and continues through historic downtown. Declare a viewing spot early as this parade will delight all ages.
Live Holiday Music & Strolling Entertainment
The weekly Fridays on the Plaza live music series will feature holiday entertainment with Roots and Rosin taking the stage on December 10 and The Caroling Company on December 17. Grab a nearby swing or bring a chair and enjoy the holiday performances from 7-9 pm at Centennial Plaza in the center of downtown.
Strolling holiday-themed performers will pop-up on Friday and Saturday evenings (Dec. 3-18) from 6-9 pm to delight all ages. Be on the lookout throughout downtown for some fun antics.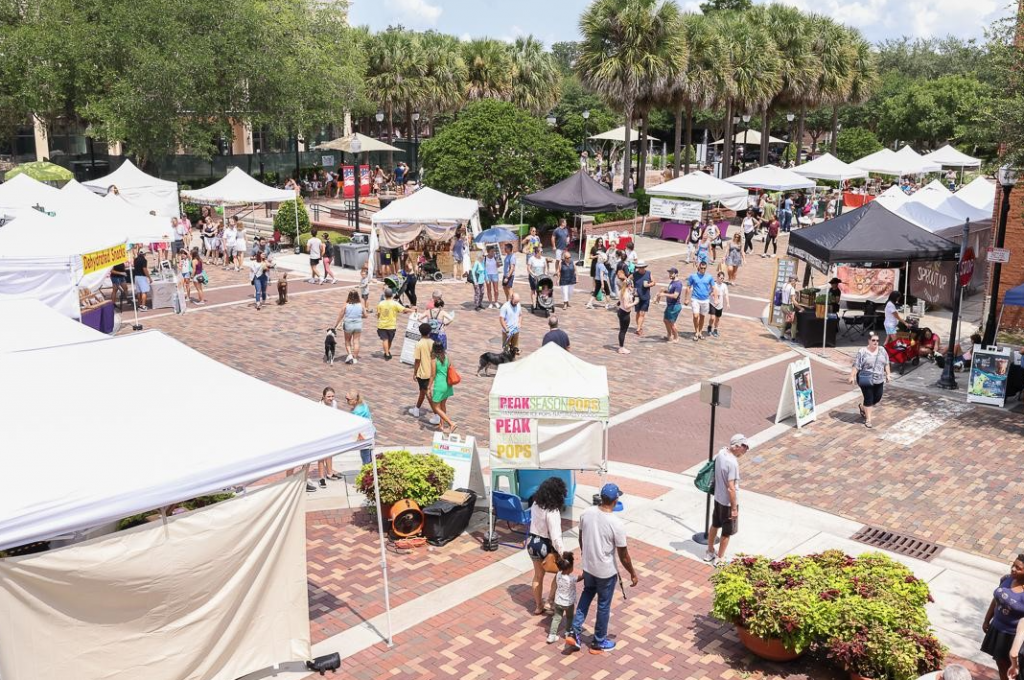 A Very Merry Farmers Market
A Very Merry Farmers Market on Saturday, December 4, 11, and 18 (8 am-1 pm) is a fun outing for the whole family including the four-legged. The festive decorated market has live music, family-fun games on the lawn, and Santa will make a special visit to the market on December 11 and 18. With more than 100 vendors weekly, the Winter Garden Farmers Market located at the Downtown Pavilion (104 S. Lakeview Ave.) is a great place to find flowers and wreaths, holiday plants, seasonal decorations, fresh produce, artisan food to make your holidays festive, as well as great gifts!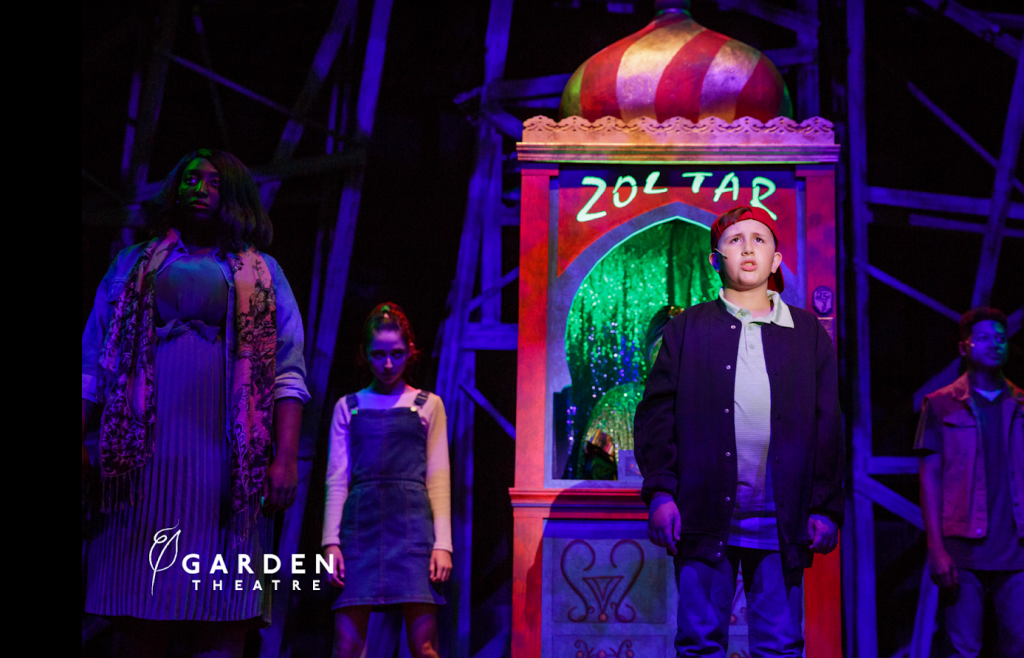 Garden Theatre Entertainment
The exquisite historic Garden Theatre (160 W. Plant St.) is hosting several events to make your holiday special including an interactive holiday movie, concert, dance ensemble, as well a live theatre production.
Guests will be treated to an interactive movie experience with the showing of The Muppet Christmas Carol (rated G) on Sunday, December 6, at 7 pm. Click here to purchase the tickets ($15).
On Sunday, December 12, the dazzling voices of the Winter Garden Community Choir & Voci del Cuore (Voices of the Heart) will perform Noel: A Christmas Concert. Showtime is at 7:30 pm and admission is free, but reservations are required and a $5 donation is suggested.
The Center for Dance & Performing Arts returns to the Garden Theatre this holiday season with a contemporary journey through the Christmas Story in dance. The youth performing ensemble will treat audiences to In His Name…We Dance on Wednesday, December 22, and Thursday, December 23, with two performance each day at 4 pm and 7 pm. Click here to purchase tickets ($15).
Big, The Musical reminds us "everyone grows old, but you don't have to grow up" which is fitting as the magic of the holiday season reverts us to our youth. Catch performances of this fun play on Thursdays-Sundays through December 19. Ticket prices vary, click here to purchase.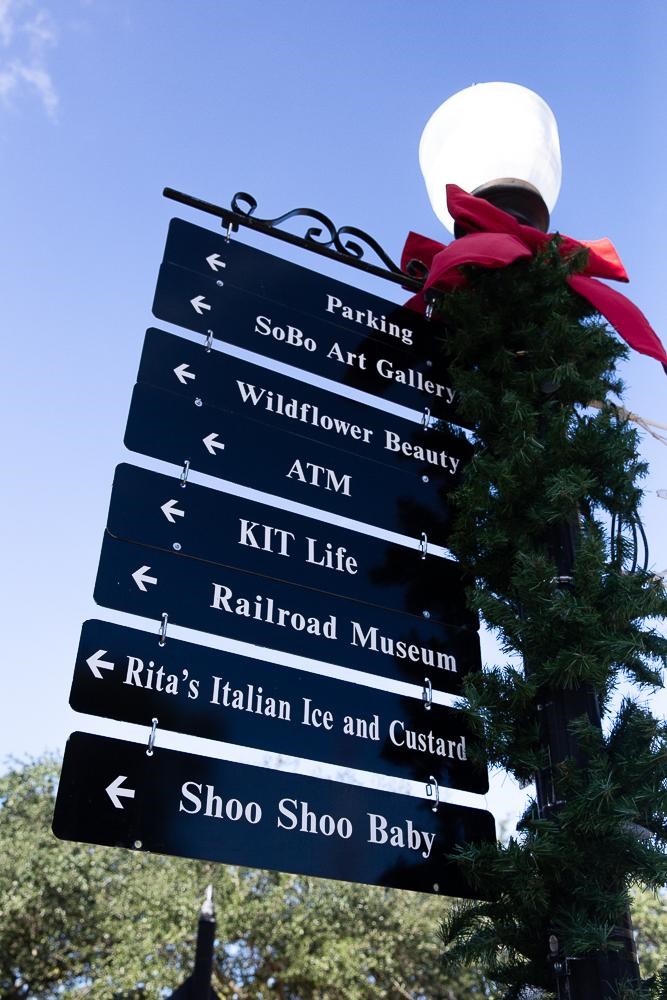 Holiday Shopping
Our local-owned shops line the festive streets and offer unique, one-of-a-kind gifts with stress-free, personalized customer service. From apparel, accessories, jewelry, sporting goods to home décor, gourmet seasonings, bakeries, chocolate shops, and more, you will find great gifts and all the fixings for hosting. There is no better way to support locals than entering the charming ambiance of historic downtown Winter Garden and doing your holiday shopping here during this special time of year.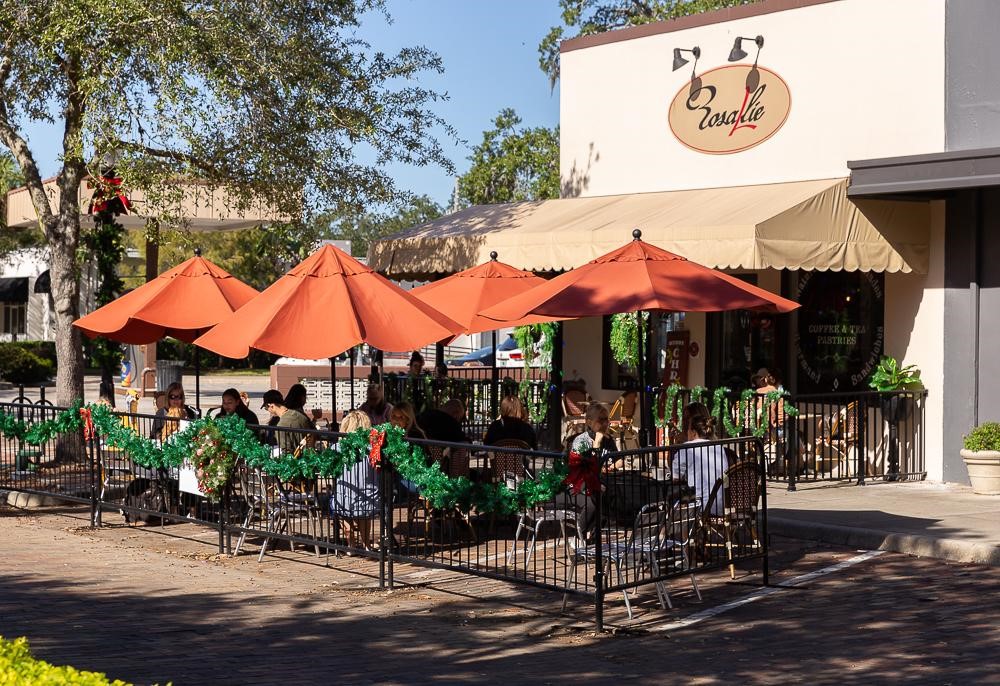 Holiday Dining
As family and friends gather, take advantage of the many local eateries and spacious outdoor dining that is adorned with décor to compliment the holiday atmosphere. Whether it is casual or upscale, or perhaps just a place to go for a treat like hot cocoa, our local dining scene will indulge all the senses.
New Year's Eve
Ring in the New Year with dinner and a festive stroll and capture the final memories of 2021 at the festive photo locations. Visit Pilars for a special celebration of dining beginning at 4 pm along with live jazz music from 8:30 pm to 12:30 am.
For a list of all the December events in Downtown Winter Garden, click here.